Context vocabulary
{{#eclipseproject:technology.higgins|eclipse_custom_style.css}}
A vocabulary to describe contexts. Imported by Persona vocabulary.
Files
UML Overview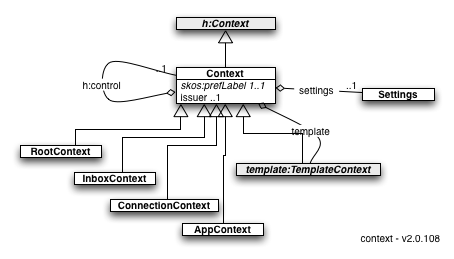 Classes
Context
A context as used in the Persona data model. A container of a set of entities. Contexts are usually created using information from a special kind of context called a template:TemplateContext. The template:TemplateContext contains a ContextPrototype that describes the context to be created. Regular contexts have a template attribute that its the TemplateContext that originally defined it.
subClassOf: h:Context
0..1 h:control
0..1 issuer
0..1 template
0..1 settings
1..1 skos:prefLabel
AppContext
A context that provides storage for an add-on app to the portal, a built-in app-like functionality in the portal (e.g. the all-about-me editor app), or an HBX add-on (e.g. dynamically loaded JavaScript app).
InboxContext
Special "inbox" context that is used to receive notifications from other ADS user accounts. Only one inbox context per ADS user.
RootContext
A tagging subclass indicating that this context is the "root" context for this user. There should only be one instance of RootContext for each user.
Settings
A class to hold setting information for the containing context. Settings are the user's preferences for how to interact with the containing context, as opposed to pure data held by the context. It is expected that contexts that have specific settings will attach them as attributes to an instance of Settings (or some subclass thereof).
Attributes
issuer
The entity (e.g. a business) that defines this context: defines the schema used, defines the meaning of the attributes of the schema, defines the interaction context withing which these attributes gain values. The issuer is often, but not necessarily the entity that makes the attribute value assertions (claims). If the issuer is Equifax, then indeed Equifax is making the claim that the "bearer" of this context is, say, over 21 years of age. As a counter example, the issuer of a context might be Facebook. In this case the values are asserted by the Facebook user, yet Facebook is considered the issuer. This is a required attribute of all Contexts.
domain: Context
value: URI. The URI is either the domain name that is the authority behind the attribute assertions or

The value http://!self - the user has explicitly asserted entities & attributes in this context
The value http://!derived - the active client has derived entities & attributes in this context based on observed behavior and/or assertions made by the user in other contexts
settings
A singleton instance of the Settings class.
domain: Context
value: Settings
template
A link to a TemplateContext that acts as a template for this context.
domain: Context
value: template:TemplateContext
Attributes from higgins.owl
Repeated here for convenience.
h:control
Inherited from h:Context. See Higgins Data Model 2.0.
domain: Context
value: h:Context
h:vocabulary
Inherited from h:Context. See Higgins Data Model 2.0.
domain: h:Context
range: owl:Ontology
Links