COSMOS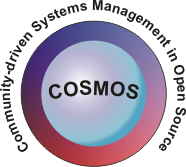 Welcome to the COSMOS Wiki home page!
The COSMOS (COmmunity-driven Systems Management in Open Source) project aims to provide an extensible, standards-based framework upon which software developers can create specialized, differentiated and inter-operable offerings of tools for system management.
Please check out the COSMOS web page (http://www.eclipse.org/cosmos/)
Quicklinks
Resource
Description
COSMOS Project
Standing Meetings
List of meetings:

Meetings merged:

Documents
References to COSMOS related materials.
User resources
Developer resources
Archived Information
Click here to view information that has been removed from the COSMOS Wiki homepage.