Difference between revisions of "Architecture"
Line 54:
Line 54:
 

==See Also==

 

==See Also==

 

* [http://eclipse.org/higins Higgins Home]

 

* [http://eclipse.org/higins Higgins Home]

−

* [[Components Matrix]]

+

* [[Matrix]]
---
Revision as of 17:02, 7 November 2006
This page describes the architecture of the core components planned for Higgins 1.0
Higgins Clients
Client apps and services that use these core components are expected to include:
Core Components
Note: In this diagram "PI" means a plug-in.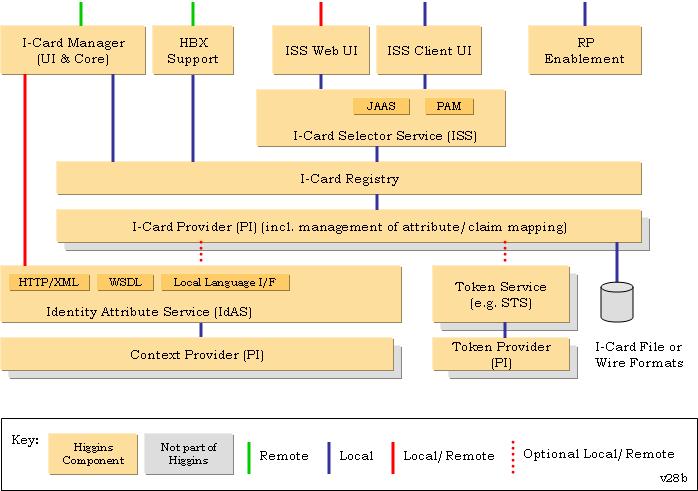 Recent changes to the diagram
v28: Incorporated attribute/claim mapping inside I-Card Provider (rather than separate component)
v27: Renamed "Token Issuer" to "Token Service"
v25-6: Rename i-card broker/manager to i-card manager; change line at top connected to ISS Web UI to red (to reflect a possible deployment option is that the ISS Web UI runs local (on same machine as browser))
v24: Changed how "Attribute/Claim Mapping" component interconnects with Token Provider
v23: Added a new component, "Attribute/Claim Mapping"; Changed Token Provider to (optionally) pull claim data from I-Card Provider (instead of directly from IdAS, as it had been in v22).
v22: Split ISS into two: ISS and I-Card Registry; Renamed DI Provider Framework to Token Issuer; And renamed DI Issuer to Token Provider per discussion at most recent F2F.
v21: Removed the "contributed to Higgins" vs. "Higgins component" distinction; Added "optional" interconnect lines; renamed I-Card Broker to "I-Card Manager (Webapp)"; added annotation for I-Card File/Wire Format;
v20: Renamed STS to DI Issuer Framework; Renamed Token Provider to DI Issuer; Added local/remote interconnect lines; removed HBX and other requesters (to separate diagram)
v18-19: Interface to local STS moved to I-Card Providers (from ISS); Removed "Identity Provider" grey box at the top; Moved Relying Party from the top to its own "Relying Parties" area at the right. Moved lower grey IdP box into its own separate "Service Provider" area. Changed font to Bookman Old Style.
v17: Added two new grey boxes: File Import & Export (of I-Cards), Remote IdP; added a line to show that I-Card Broker WebApp will use IdAS API directly
v16: Added a line from "Local or Remote Enterprise Apps" to the top of "ISS UI (Rich Client)"; Also, added a new grey box: "Identity Provider (Issuer)"
v15: Added "Browser" grey box

Added in missing ISS UI (Rich Client) component --needed to mimic exactly

CardSpace's WinXP-based architecture

Connected the Relying Party to both the Browser and to HBX

Removed End User Components, Developer, Enterprise -> simply added "Enterprise" to :large grey box text instead

Removed the RCP Demo App entirely (retiring it)

Switched the interconnecting lines style

Split ISS UI & HBX Support into two separate components: ISS UI (WebApp) and HBX :Support

Shortened Relying Party Tags & Impl to "Relying Party"
v11-14: Added I-Card Providers to ISS; now I-Card Providers consume IdAS API not ISS; add "Enterprise" label
v10: Added I-Card Broker Web App to diagram and text
v9: Added to IdAS API: Local Language Bindings; added two directional arrows to/from STS; added a "gray" STS
v8: Minor formatting tweaks.
v7: Split Higgins core into "IdAS" and "Identity Selector Service", removed "root" Context Providers from diagram, added PAM integration, removed all color coding relating to development status, added "3rd party contributed" distinction/color. Higgins has now become just the name of the enclosing projects, but the component names no longer contain "Higgins".
v6: Added two JAAS boxes
See Also