Science WG/EclipseCon2013
Meeting Minutes, BoF EclipseCon 2013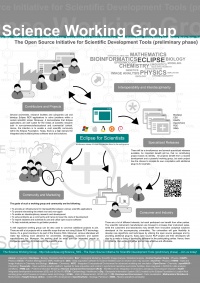 Meeting Attendants

Philip Wenig (OpenChrom)
Marco Descher (FHV)
Tim Jagenberg (MARINTEK)
Egil Giertsen (MARINTEK)
Torkild U. Resheim (Itema)
Robert Heggdal (Itema)
Stephan Druskat (LinkType project, University of Jena)
Matthew Gerring (Diamond Light Source - [DAWN collaboration])
Jacob Filik (Diamond Light Source - [DAWN collaboration])
Raphael Gayno (IFPEN)
Target: Definition and Vision
Contribution

3D visualization, OpenGL Viewer
dynamic 2d visualiatzion, oscilloscope widget
access to Experiment Physics and Industrial Control System (EPICS)
TeXmark algorithm for xygraph
2d image viewing, histographic algorithms
tool system
slicing system, EP for slicing different ways of n-dimensional data
figures for selecting data
3d and surface visualization
STEM: use of gis data visualization in form of shape files
Workflow systems - Integration barrier?
Interested in

better visualization tools for 2d plots
jobs management, simulation management
periodic system classes, scientific constants
file bugs for swt xygraph
Matlab replacement designed by the working group
improve xy plotting functionality, work together to get this done
performant visualization for dynamic mesh
Funding for research projects
teaching exchange
state-of-the-art knowledge exchange
Need

3d rendering on huge 3d models
Support for graph (and graph-layout) algorithms
ISO surface renderer

Dimensions/units -> UoMo
Other

wrapping up algorithms and libraries to java and as eclipse bundles
matlab -> python it provides a broader set of scientific libraries
python integration, pydev
EASE
Rapidminer, Gridminer
Distributed Execution

Remark: University Of Innsbruck
2D Plot, xygraph contribution
Visualization - common visualization working group
System Engineering - numerical part
Crystal structures
Conclusion

Matthew will provide a one-pager of 2 or 3 points we like to achieve next year and one to two pages vision of the working group
Further steps

Definition and Vision by End of November -> just write, not too long
Review by all members
Who takes leadership?
Vision document (1,2 pages)

defined scope what to accomplish; common scientific building blocks

Common scientific platform?