MWE/Reviews/2.2
This page provides the required docuware for the 'MWE 2.2 Release Review'
Overview
MWE is a declarative statically-typed language for describing and instantiating Java object graphs.
Features
Very concise syntax to declaratively define object graphs based on JavaBeans conventions.
Rich editing environment, based on Xtext
New in this release
Non-Code Aspects
APIs
APIs have not changed.
The project lead certifies that the requirements for Eclipse Quality APIs have been met for this release.
Architecture
No change.
Tool Usability
Nothing noteworthy
End-of-Life
Nothing has been deprecated.
Bugzilla
Bugzilla snapshot for Indigo as of November 30, 2011.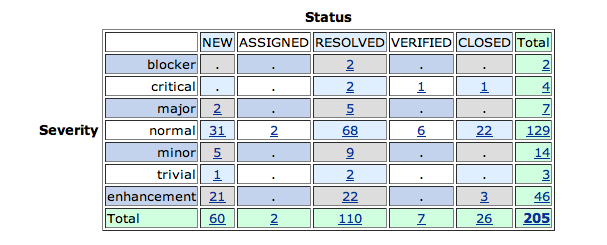 Standards
No standards.
UI Usability
MWE conforms to Eclipse User Interface Guidelines
Eclipse platform standard i18n support used where applicable/possible; stand-alone deployment uses equivalent J2SE APIs
ICU4J is used
Communities
Interaction in Bugzilla
Activity on the newsgroup
Collaboration with other projects at Eclipse
Committer Changes
No change.
IP Issues
The EMF Modeling Workflow Engine project leadership verifies that:
the about files and use licenses are in place as per the Guidelines to Legal Documentation.
all contributions (code, documentation, images, etc) have been committed by individuals who are either Members of the Foundation, or have signed the appropriate Committer Agreement. In either case, these are individuals who have signed, and are abiding by, the Eclipse IP Policy.
all significant contributions have been reviewed by the Foundation's legal staff.
all non-Committer code contributions, including third-party libraries, have been documented in the release and reviewed by the Foundation's legal staff.
all Contribution Questionnaires have been completed.
the "provider" field of each plug-in is set to "Eclipse Modeling Project".
the "copyright" field of each feature is set to the copyright owner (the Eclipse Foundation is rarely the copyright owner).
any third-party logos or trademarks included in the distribution (icons, help file logos, etc) have been licensed under the EPL.
any fonts or similar third-party images included in the distribution (e.g. in PDF or EPS files) have been licensed under the EPL.
The approved MWE project IP log is located at http://www.eclipse.org/modeling/emft/mwe/ip_log/ip_log_2.2.0.pdf.
Project Plan
The current project plan is available from http://www.eclipse.org/projects/project-plan.php?projectid=modeling.emf.mwe.
Draft development plan for MWE 2.3 is not yet available.