Difference between revisions of "VJET/Importing VJET ANVILs"
From Eclipsepedia
(Updated link to point project page from which they can be cloned)

 

Line 4:
Line 4:
 

== Download VJET ANVIL==

 

== Download VJET ANVIL==

 
 
−

[[http://eclipse.org/vjet/download/ Download the VJET ANVIL projects]] you want to use:

+

[http://eclipse.org/vjet// the ANVIL ] you want to use:

 
 
 

* Node.js

 

* Node.js
---
Latest revision as of 00:53, 8 October 2013
Most developers will want to use 3rd party JavaScript libraries with VJET JS IDE.  VJET JavaScript publishes ANVIL for a few commonly used JavaScript libraries.  VJET ANVILs are published as Eclipse projects, imported into the Eclipse workspace, then referenced using the VJET JS IDE code assist features.

[edit] Download VJET ANVIL
Get from here the ANVIL library you want to use:
Node.js
jQuery
Dojo
JSON
Canvas
You can also find the source code for some of the ANVILs in git see the VJET ANVILS page for list of ANVILs.
[edit] Import ANVIL Projects into Eclipse
In Eclipse, select File > Import
In the Import wizard select General > Existing Projects Into Workspace
Select Next
Select  Select archive file, then press Browse and select the project you want to import. You can only select one project at a time.
Select Finish.  The imported VJET ANVIL project appears in the Explorer.   In order to reference the types, you must update your project's build path.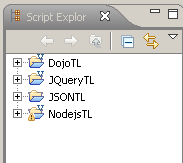 [edit] Update Your Project's Build Path
Right-Click on your project; select Build Path -> Configure Build Path
In the Projects tab, press Add and select the type library projects you want to add.   (Only VJET Projects are listed in this dialog)
Select OK *-> Finish*.  The type libraries are added to the project's build path.
Once added to the build path, you can use the code assist features.