Trusted Bundles
High level overview
The following is a stakeholder needs and high level design document for security related functionality being developed for the Eclipse 3.4 release. We will be building upon the 3.3 work of applying signatures to the bundles that make up the Eclipse platform.
Stakeholders and needs
There are several classes of stakeholders that have different needs regarding a security solution for the Eclipse platform. The exercise of defining a direction for security functionality must begin with the identification of these stakeholder and an evaluation of their needs.
Stakeholder identification
There are several identifiable classes of stakeholders when considering the needs of the Eclipse ecosystem. A list of the identifiable stakeholders follows:
End-users - People who are users of Eclipse platform based technologies. There are at least two classes:

Enterprise - End-users who are using an Eclipse platform application in a large enterprise deployment context
Standalone - End-users who are using a unzip-and-run Eclipse installation

Administrators - People tasked with managing a multi-user installation of an Eclipse platform based application
Developers - People who code bundles for the Eclipse RCP
Community - The general Eclipse community, including the Foundation and partner companies
Needs evaluation
Across these stakeholders, there are the following identifiable needs:
End-users

Increased security from potentially malicious active content packaged as OSGi bundles
Security from subverted or misdirected administration (E)
Accommodation of a potentially low level of security competency
Usability and simplicity in setting and maintaining a secure configuration
Acceptable performance while using the Eclipse platform with security enabled
Administrators

Increased security from potentially malicious active content packaged as OSGi bundles
Dynamicity of administration to deal with active threats
Simplicity of administration for a deployment wide configuration
Extensibility to contribute alternative implementations of security services
Developers

Consistency with existing Java deployment packaging formats
Compatibility with existing and upcoming Java and OSGi security technologies
Extensibility to contribute alternate implementations of security services
Community

A solid reputation as a platform which has security in mind for its users and member companies
Value identification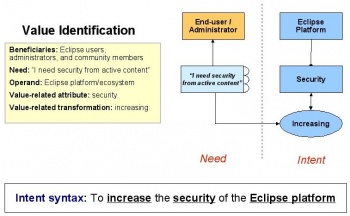 Given these stakeholders and needs, the primary intent of the solution can be defined as "To increase the security of the Eclipse platform". This addresses the most fundamental needs of the most important stakeholders. The beneficiaries of the solution will be Eclipse users, administrators and community members – such as member companies and the foundation itself. The operand – which is the object of the value related change – is the Eclipse platform itself, and the value related attribute is security. In this case the transformation will be increasing.

Bug 153847 has been opened to track a solution to this requirement.
System intent