Template-meta vocabulary
{{#eclipseproject:technology.higgins|eclipse_custom_style.css}}
A small vocabulary for describing metadata about templates. Used to create a single "template registry" context that contains metadata about hundreds of templates. Part of the Persona Data Model 2.0.
Files
UML Overview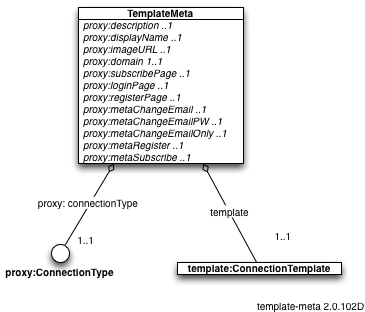 Classes
TemplateMeta
Metadata about the template referenced by the template attribute.
1..1 proxy:connectionType
0..1 proxy:description
1..1 proxy:displayName
1..1 proxy:domain
0..1 proxy:imageURL
0..1 proxy:loginPage
0..1 proxy:registerPage
0..1 proxy:subscribePage
0..1 proxy:metaSubscribe
0..1 proxy:metaChangeEmail
0..1 proxy:metaRegister
1..1 template
Attributes
template
The template being described.
domain:TemplateMeta
value: template:ConnectionTemplate
Links