Scout/Concepts/Rayo
Description
Rayo is a swing look and feel for Eclipse Scout. It is designed to look and feel "different" than those boring grey windows from the 90s.
Window controls are rearranged or omitted intentionally to give the user a more clean and simple user interface. While the marketing departments likes this very much ("So simple, everyone can use it without teaching, you can't do anything wrong - and it's blue!"), it certainly limits the possibilites to the programmer. First, you usually do not programm any GUI code, but only "client model code" that is then mapped to the GUI automatically. This limits you to the possibilities the model offers. Second, not all of those model objects are supported by the Rayo LAF, because they would not fit in.
Its based on Synth Look and Feel. All the painting is delegated to components without requiring any code to be written in Rayo. That makes a skinnable Look and Feel that is configured in an XML property file.
The default theme of the RAP UI (rayo theme), is designed to look exaclty like this Swing Look and Feel.
Screenshot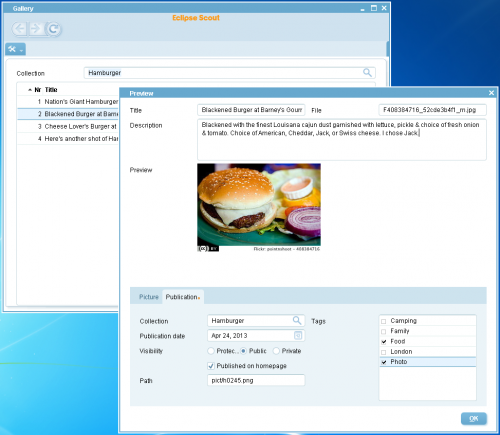 See also