Difference between revisions of "STP/Team"
m

 

Line 32:
Line 32:
 
 
 

==== Etienne Juliot ====

 

==== Etienne Juliot ====

 
+
 
+
 
+
 
+
 
+
 
+
 
 
 

==== Vincent Zurczak ====

 

==== Vincent Zurczak ====
---
Latest revision as of 04:39, 21 April 2009
SOA Tools Project Team
This page provides an overview the committers and contributors involved with the SOA Tools Project and its sub-projects.
This page is work in progress and incomplete
Project Lead / PMC
Oisin Hurley

Oisín Hurley is an Open Source Tools Architect at Progress Software. He's the PMC lead for the Eclipse SOA Tools top-level project, and a committer on the Orbit, SCA Tools and WTP Incubator projects.
Keen to land an indoor job with no heavy lifting, Oisín started out on the road to software development in the early 1980's, when his first task was to write a computer program to sort change for a maths teacher. His software skills quickly outgrew such fripperies, but when the luster wore off the vision of becoming a multimillionaire games developer, he went to TCD in Dublin, Ireland to get a Computer Science degree. After a couple of years of post-graduate doldrums, he was offered a job at the freshly-minted IONA Technologies. Delighted to have achieved his job goal, he enthusiastically accepted and has been there since 1993. He now works for Progress Software, a change that he managed to achieve without even leaving his desk.
His current interests are domain specific languages for enterprise software development and Open Source software.
It turned out that there was a lot more heavy lifting than he expected.
BPMN Modeler
Antoine Toulme
A software engineer with a strong specialization in Eclipse plugin development, Antoine leads the BPMN sub-project and has commit rights on the Babel project. More...
Hugues Malphettes
SCA Tools
Stephane Drapeau

Stephane Drapeau is R&D engineer at Obeo Company. He works on the SCOrWare project (funded by the French National Research Agency), which aims to provide a free software implementation of the SCA specifications through the component-based world of OW2. He leads the work package on tools to assist the design and development of applications conforming to the SCA specifications. He leads also the SCA Tools project of the Eclipse STP top level project.
Etienne Juliot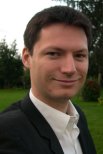 Etienne Juliot is one the funder of Obeo company focus on Model Driven tools. Etienne has over 9 years of software architecture experience on SOA, JavaEE frameworks, MDA approach and Eclipse technologies. He is also one the creators of the Acceleo project and the OW2 ScorWare project.
He works on SCA component and help to create collaborations between Eclipse Modeling Project and STP.
Vincent Zurczak
Vincent Zurczak is a committer on the Eclipse top-level project STP. He works in particular on the SCA project of STP, which aims at providing tools for the Service Component Architecture specification. Vincent works as an R&D Engineer for the company EBM WebSourcing, where he also develops Eclipse-based tooling for the OW2 ESB PEtALS.
STP Intermediate Model
Adrian Mos

Adrian is an Eclipse Foundation committer to the STP project and the component lead for the STP Intermediate Model component. He currently serves as Technical Lead for Service Oriented Architecture (SOA) projects in the Tuvalu team in INRIA. Prior to this position, he has worked in both industrial and research environments focusing on building automated management solutions for enterprise Java systems. Adrian holds a PhD from Dublin City University, Ireland and a Computer Engineering degree from the Polytechnic University of Timisoara, Romania.
Policy Editor
Jerry Preissler

Jerry Preissler has been working on the implementation of service-oriented infrastructures for 6+ years now, first with Deutsche Post and now with SOPERA. Currently he is the architect responsible for the tooling components of the SOPERA platform. He is contributor for the SOA Runtime Framework (a.k.a. Swordfish) and the SOA Tools Project.
Renat Zubairov

Renat Zubairov is Senior Architect and Agile Evangelist at Sopera GmbH (Germany). He is working on the Eclipse-based open source SOA Suite SOPERA Advanced Service Factory. Apart from SOA technologies his is interested in Model-Driven Software Development and Agile Development Methodologies. He is Sun Certified Enterprise Architect and Certified Scrum Master.
David Bosschaert
David Bosschaert is a Fellow at Progress Software. He has been developing software since 1983 and coding Java since 1997. He spends most of his time developing Enterprise Java products at Progress Software in Dublin (previously IONA technologies). You can reach him at david.bosschaert@gmail.com
Andrei Shakirin
Alexander Tselesh
Alexey Markevich