STEM Import Discrete Transportation Events
This tutorial shows how to import the discrete transporation events from a Pajek file and visualize the events. Documentation on the Pajek format is available at Importing a Pajek Graph. The import of transportation data of beef for Austria is used as an example here.
The Pajek File
The following text must be copied into a new textfile named graph.net. In the Vertices* section node references are specified for AT-2, AT-3, ... AT-10. These are nodes from the STEM library graph of Austria. In the Edges* section migration edges between these nodes are defined. The edges have default migration rate of zero and a rate >0 for a specified date. That means only a this date beef moves from one region to another.
*Vertices 9
1 AT-10
2 AT-2
3 AT-3
4 AT-4
5 AT-5
6 AT-6
7 AT-7
8 AT-8
9 AT-9
*Edges
1 2 popID beef rate 0 date 2012-01-01 rate 10.0
1 3 popID beef rate 0 date 2012-01-01 rate 10.0
1 4 popID beef rate 0 date 2012-01-01 rate 10.0
1 5 popID beef rate 0 date 2012-01-01 rate 10.0
1 6 popID beef rate 0 date 2012-01-01 rate 10.0
1 7 popID beef rate 0 date 2012-01-01 rate 10.0
1 8 popID beef rate 0 date 2012-01-01 rate 10.0
1 9 popID beef rate 0 date 2012-01-01 rate 10.0
2 3 popID beef rate 0 date 2012-01-02 rate 20.0
2 4 popID beef rate 0 date 2012-01-02 rate 20.0
2 5 popID beef rate 0 date 2012-01-02 rate 20.0
2 6 popID beef rate 0 date 2012-01-02 rate 20.0
2 7 popID beef rate 0 date 2012-01-02 rate 20.0
2 8 popID beef rate 0 date 2012-01-02 rate 20.0
2 9 popID beef rate 0 date 2012-01-02 rate 20.0
3 4 popID beef rate 0 date 2012-01-03 rate 30.0
3 5 popID beef rate 0 date 2012-01-03 rate 30.0
3 6 popID beef rate 0 date 2012-01-03 rate 30.0
3 7 popID beef rate 0 date 2012-01-03 rate 30.0
3 8 popID beef rate 0 date 2012-01-03 rate 30.0
3 9 popID beef rate 0 date 2012-01-03 rate 30.0
4 5 popID beef rate 0 date 2012-01-04 rate 40.0
4 6 popID beef rate 0 date 2012-01-04 rate 40.0
4 7 popID beef rate 0 date 2012-01-04 rate 40.0
4 8 popID beef rate 0 date 2012-01-04 rate 40.0
4 9 popID beef rate 0 date 2012-01-04 rate 40.0
5 6 popID beef rate 0 date 2012-01-05 rate 50.0
5 7 popID beef rate 0 date 2012-01-05 rate 50.0
5 8 popID beef rate 0 date 2012-01-05 rate 50.0
5 9 popID beef rate 0 date 2012-01-05 rate 50.0
6 7 popID beef rate 0 date 2012-01-06 rate 60.0
6 8 popID beef rate 0 date 2012-01-06 rate 60.0
6 9 popID beef rate 0 date 2012-01-06 rate 60.0
7 8 popID beef rate 0 date 2012-01-07 rate 70.0
7 9 popID beef rate 0 date 2012-01-07 rate 70.0
8 9 popID beef rate 0 date 2012-01-08 rate 80.0

Create Project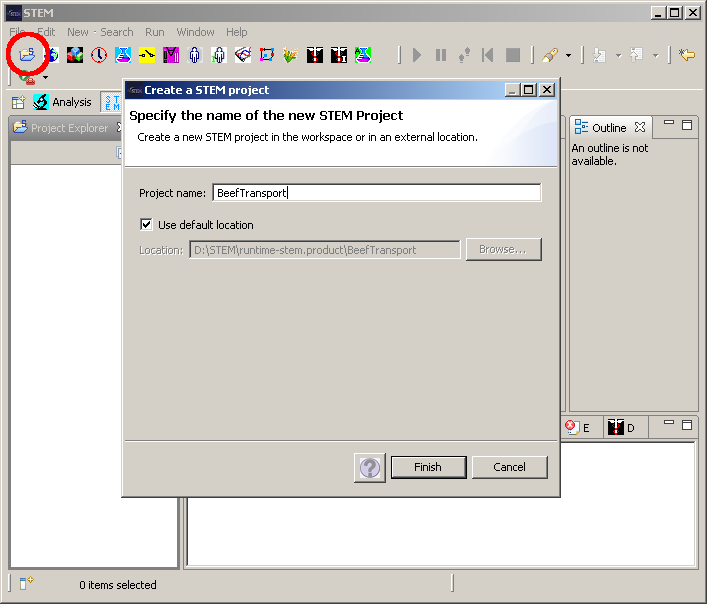 Create a new Model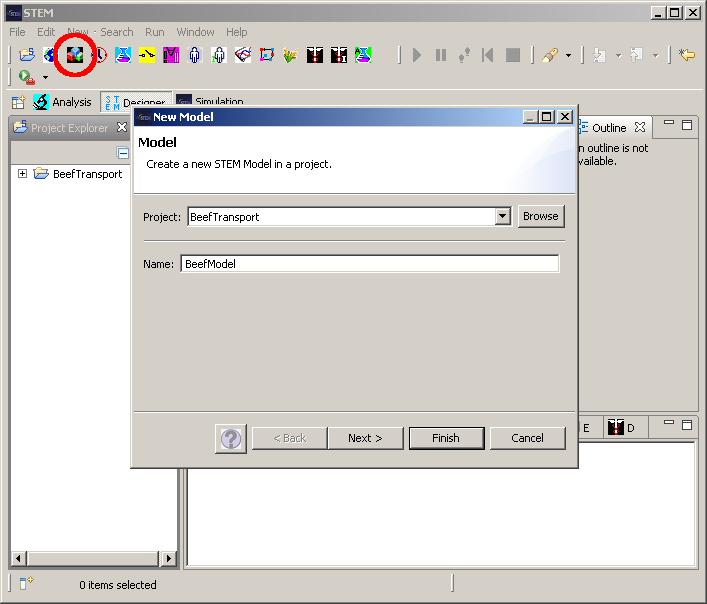 Drag the Austria Geography Model into the new Model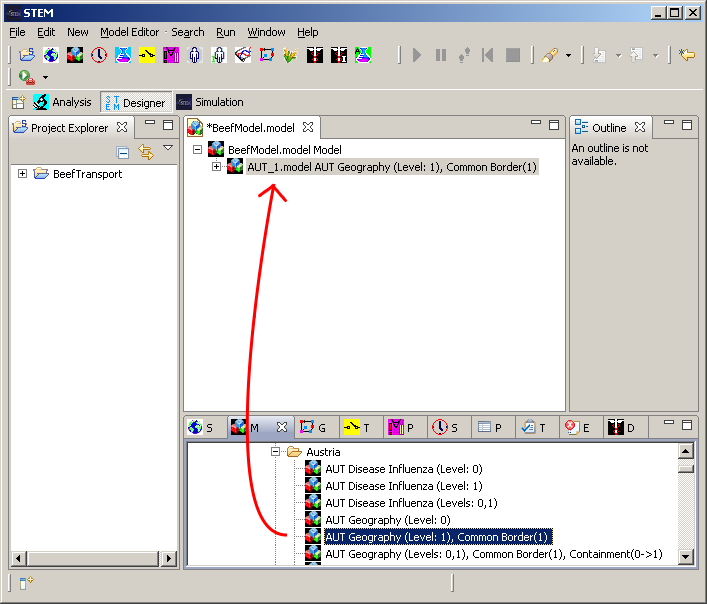 Import the Pajek Graph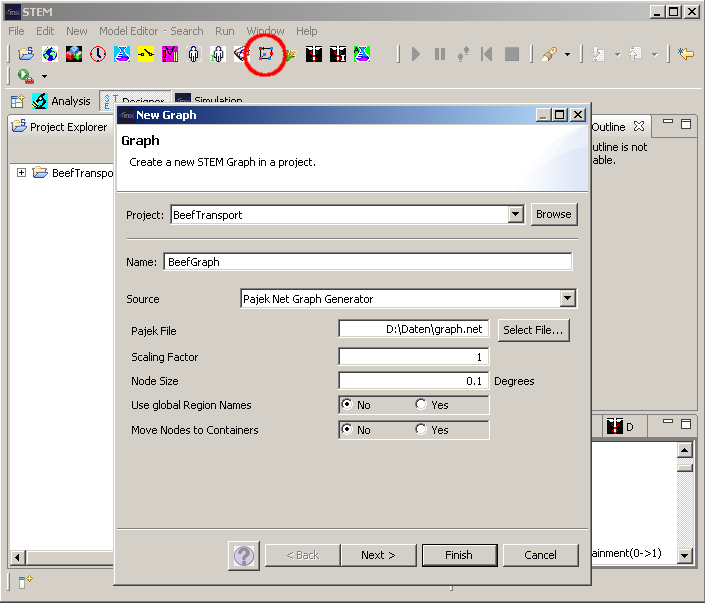 Drag the imported Graph into the Model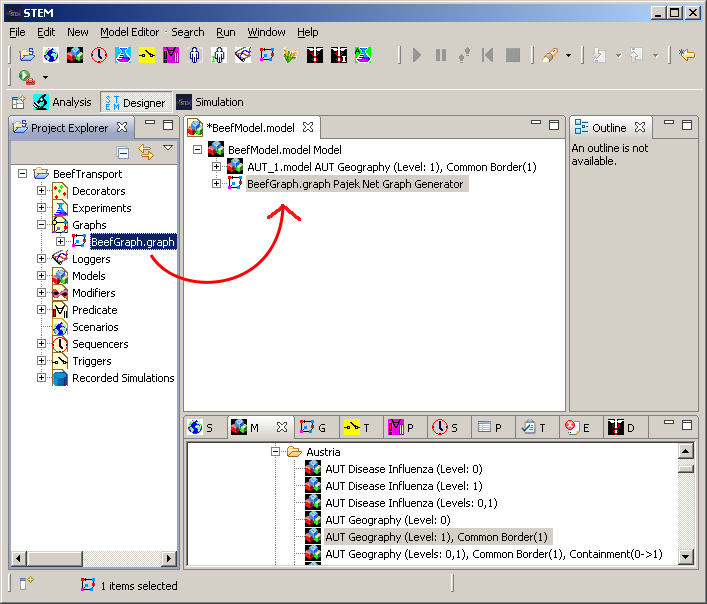 Create a Population Initializer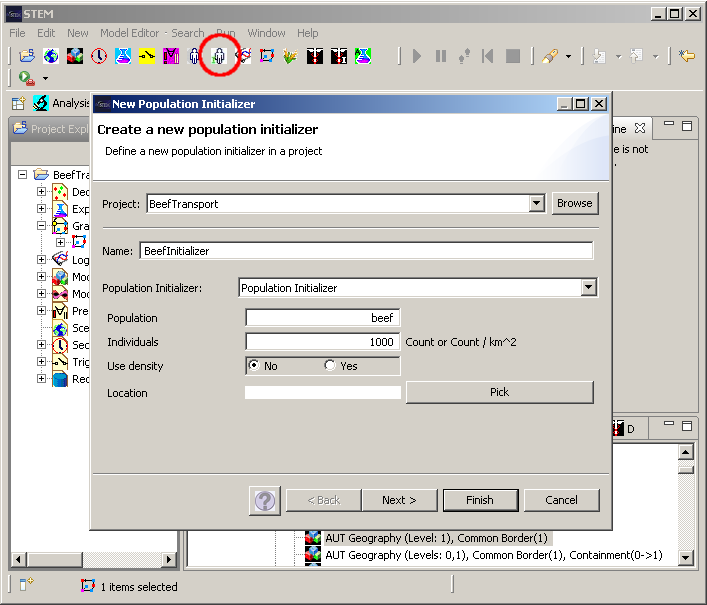 Drag the Initializer into the Model
Create a new Scenario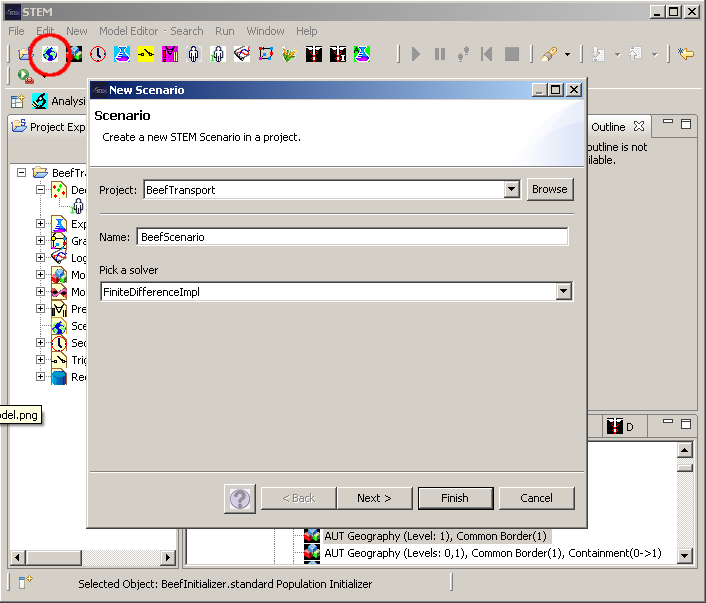 Drag the Model into the Scenario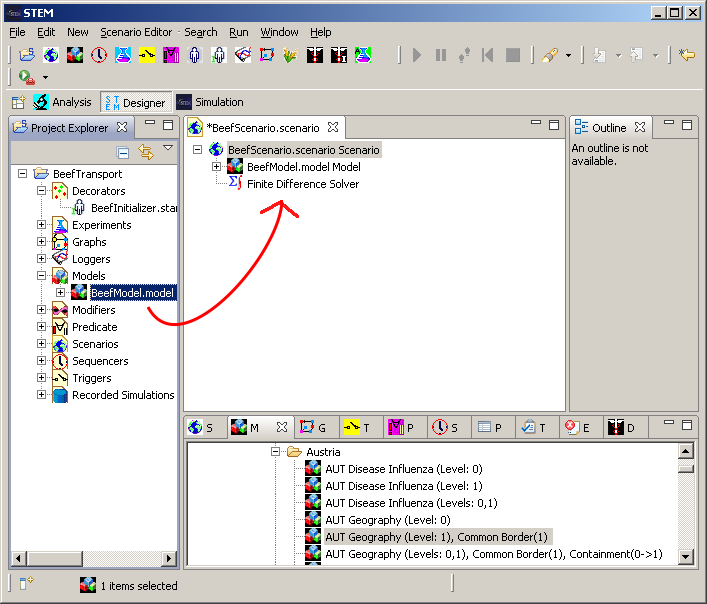 Drag the Trigger (was created during Pajek Import) to the Scenario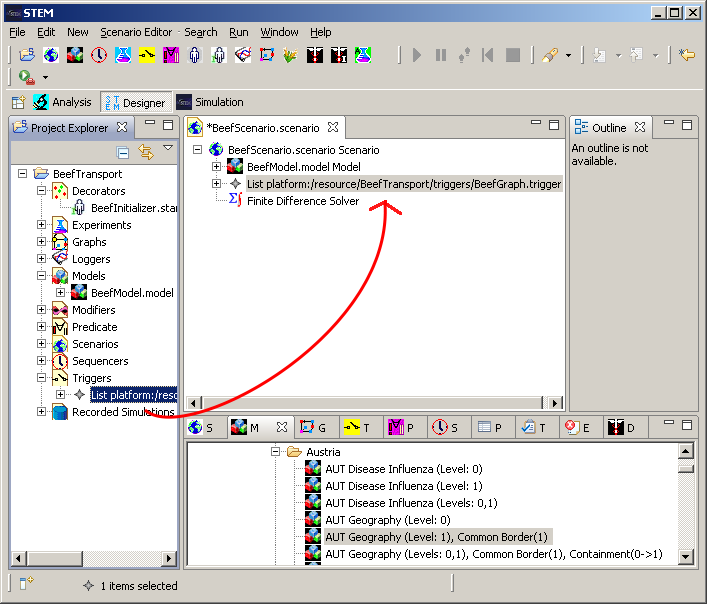 Create a Sequencer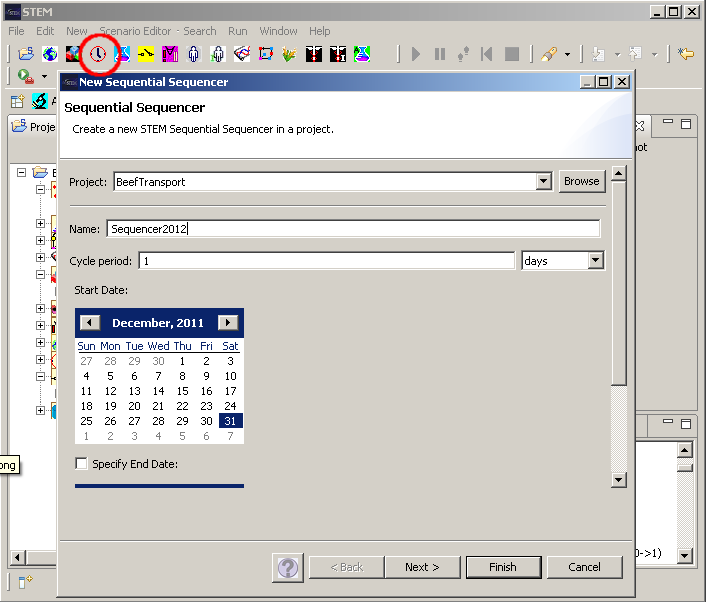 Drag the Sequencer into the Scenario
Create a Population Model for beef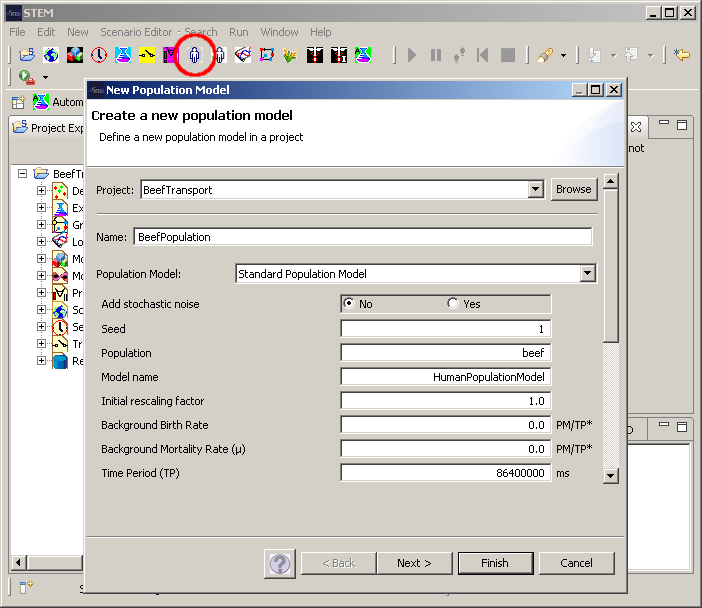 Drag the Population Model into the Scenario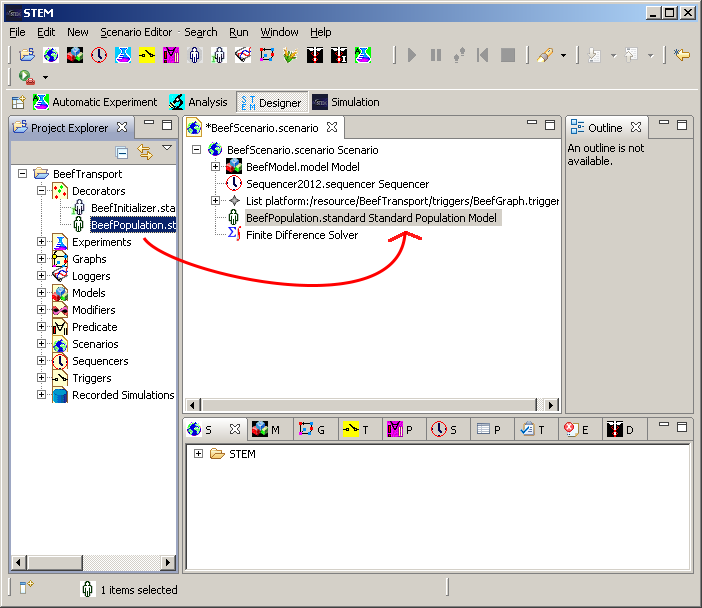 Start the Simulation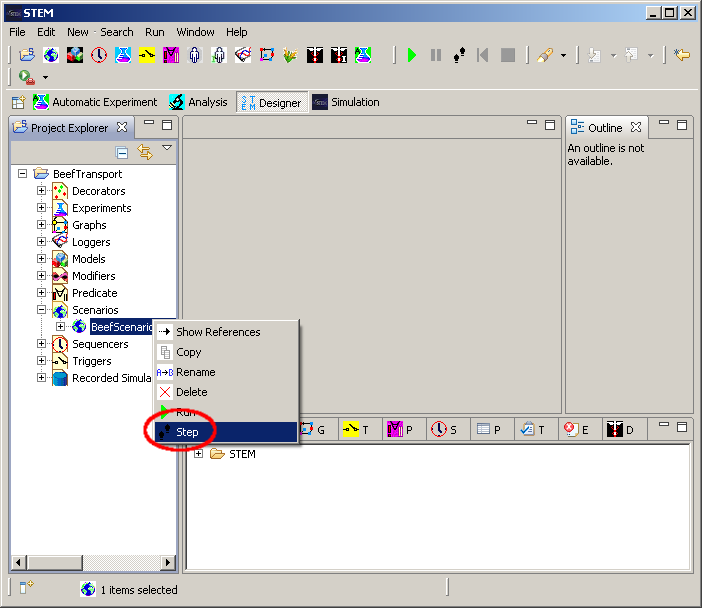 Configure the GraphMapView (1)
Configure the GraphMapView (2)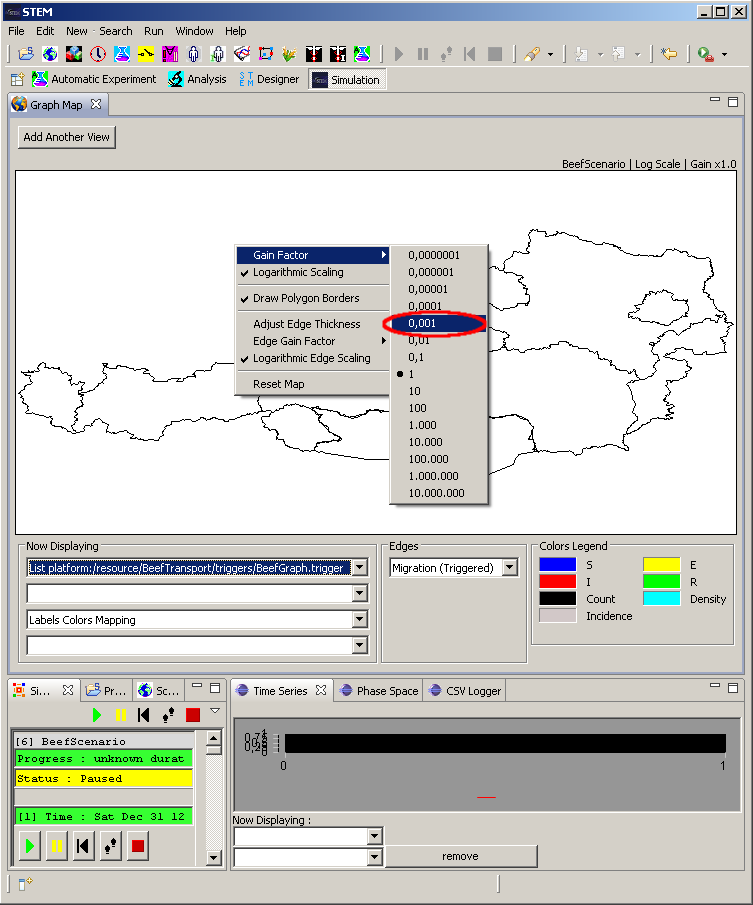 Run the Simulation Step by Step