Difference between revisions of "SMILA/Webinar"
Line 1:
Line 1:
 
+
 
+
 

== SMILA Webinar-Reihe  ==

 

== SMILA Webinar-Reihe  ==

 
 
---
Revision as of 04:37, 1 July 2010
__NO_TOC__
SMILA Webinar-Reihe
SMILA (Semantic Information Logistics Architecture) bietet Ihnen ein frei verfügbares , industriell eingesetztes Framework, um ihre semantische Applikationen skalier- und erweiterbar mit aktuellen Web-Standards zu implementieren. Durch SMILA konnten insbesondere im Rahmen von Theseus innovative Lösungen schnell und effizient entwickelt werden. Für Ihren Einstieg in SMILA bieten wir Ihnen die folgenden zwei kostenfreien Webinare an.
Anmeldung
Bitte melden Sie sich zu dem Webinar (mit Termin) unter smilawebinar@attensity.com an.
SMILA für Entscheidungsträger (0,5 h)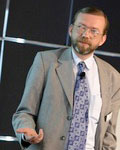 Was kann SMILA für meine Organisation tun? Anhand konkreter Einsatzbeispiele wird diese Frage beantwortet. Dabei werden die Vorteile der Eclipse Public License für den industriellen Einsatz dargelegt. Nach diesem Webinar sind Sie in der Lage, mögliche Einsatzszenarien von SMILA zu bewerten.
Unternehmensgründer, Projektmanager und Forschungsleiter Ralph Traphöner ist Technology Evangelist für SMILA. Seit 1991 ist semantische Suche sein Themenfeld bei Attensity.
Termine
SMILA für Entwickler (1h)
Wie entwickle ich Applikation mit SMILA? Diese Frage wird anhand konkreter Implementierungsbeispiele erläutert. Dabei erhalten Sie auch einen Überblick über die umfangreiche Dokumentation zu SMILA. Nach diesem Webinar sind Sie in der Lage, selbst erste Applikationen in SMILA zu entwickeln.
Igor Novakovic ist Co-Projektleiter von SMILA. Seit 2000 arbeitet er bei Attensity als Entwickler und Teamleiter an verschiedenen Java und C++ Projekten.
Termine