Remus/Getting started
Welcome to the Getting started guide. This page covers the installation of additional components for Remus and provides a brief introduction how to create new information units, search for information and howto share your information through a repository connector.
Installing Remus
The easiest way to install Remus in your IDE is via the Marketplace. Open the Marketplace Client (Help -> Eclipse Marketplace...) and search for "Remus'" or navigate alternatively to the Marketplace Webinterface. After the installation restart your Eclipse and you'll see new buttons in the toolbar and a new perspective.

Installing additional components
The default installation installs neither information types nor remote repository connectors. They can be installed also via the Eclipse Marketplace client. To install additional components open the Marketplace and switch the Marketplace.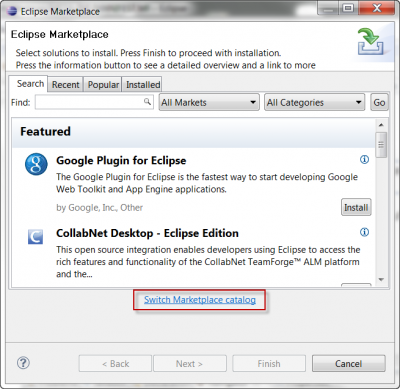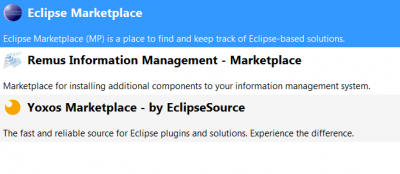 After you have chosen the Remus Marketplace you are able to browse through the available components for Remus. To install one or multiple components select the elements you wan to be installed and step through the wizard. After a restart your selected components are installed and ready to use.
Creating information units