Difference between revisions of "Project Management Infrastructure"
Line 14:
Line 14:
 
 
 

==Overview==

 

==Overview==

 
+
 
+
 
+
 
+
 

[[Image:Project-info.png]]

 

[[Image:Project-info.png]]

 
+
 
+
 
+
 
+
 
 
 

[[Image:Project-info-edit.png]]

 

[[Image:Project-info-edit.png]]

 
+
 
+
 
+
 
+
 
+
 
+
 
+
 
+
---
Revision as of 11:32, 13 April 2012
In 2011, the Eclipse Foundation began a new effort to replace the existing project management infrastructure--which includes the Developer Portal--with a new unified infrastructure with the intent to make project management activities more consistent and generally easier for all involved.
Themes of this effort include:
Improved consistency. Configuration/data-driven project web presence, direct linkage between releases, reviews, and plans. Information--including basic project metadata, project plans, and release review information--is captured and retained in a consistent (and easily leveraged) data-based format (rather than in multiple documents in arbitrary formats).
All-in-one-place. Committers are able to edit information in place on the project information pages. Text/information in one place with links in another is eliminated where possible. Comments and discussion related to reviews, elections, etc. are connected directly to the item being discussed.
Get started faster. By default, projects are provided with a data-driven website that includes consistent links to project releases, reviews, downloads, etc. Projects can opt to override the default and provide their own customized web presence.Setting up a project presence is a matter of configuration, not PHP programming against proprietary APIs.
Links
Overview
Project information pages, which are are used as the primary website by many Eclipse projects, are generated from data provided by project committers. On these pages, you will find useful information such as project description, scope, Bugzilla summaries, commit summaries, lists of repositories, and a multitude of useful links.
All of this information is presented for consumption by the general community.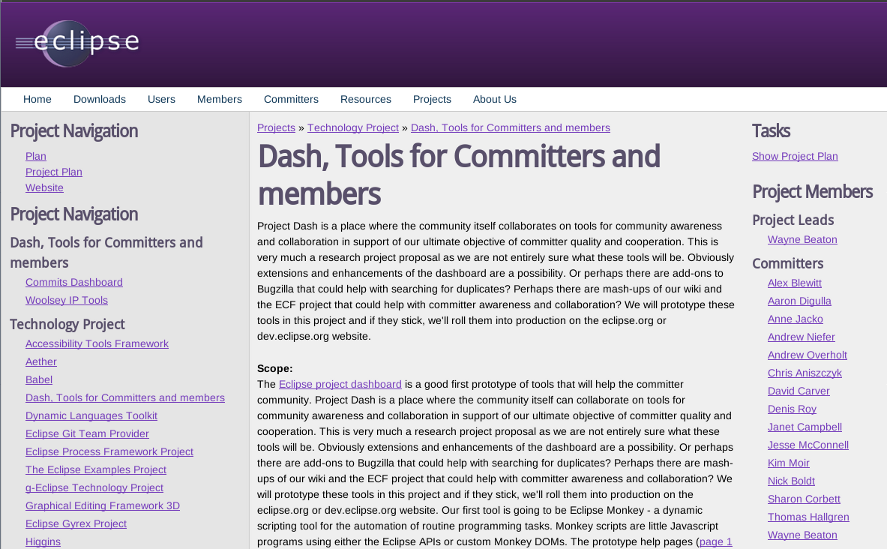 Users are not required to log in to access information about projects, releases, and many other aspects of the system. But if the user does log in, more options are made available to them.
A logged in user, for example, has the ability to edit information about projects for which they are a member. That is, a project committer, or project lead can edit information about their projects. In this case, an "Edit" option appears.

Clicking "Edit" puts the system into "edit" mode allowing the user to make changes.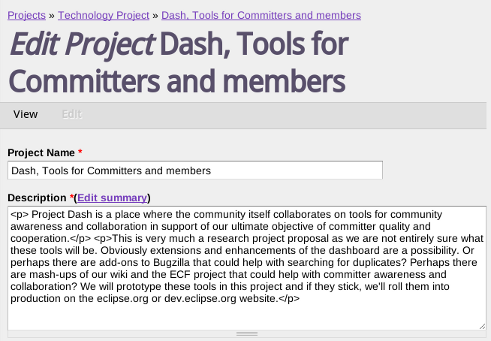 All changes are tracked via a built-in revision control system. Other project members can review revisions to see who changed what and when; more usefully, the information can be reverted if mistakes are made.
Note that PMC members and EMO staff members can also make changes to project information (these changes are also tracked).