PTP/new and noteworthy/6.0.0
The following are new features that will be available in PTP 6.0 and Photran 8.0, to be released with Eclipse Juno (4.2) June 27, 2012.
Placeholder for New and Noteworthy for PTP 6.0.0
Core Features
New RM/Configuration simplification
Support for environment management systems (Modules/SoftEnv)
Error parsers for Cray, Portland Group, and Open64 C/C++ compilers
New Resource Managers
Grid Engine
Machine-specific resource managers for

Blue Waters (NCSA)
Lonestar (TACC)
Ranger (TACC)
Parallel Language Development Tools
OpenACC added
OpenSHMEM added
LAPI removed
MPI support upgraded to MPI standard 2.2
OpenMP support upgraded to OpenMP 3.1
MPI code templates for Fortran
Remote Development Tools (RDT)
Synchronized Projects
Synchronized projects consist of files that are mirrored on the local system as well as on one or more remote systems. Editing occurs locally and each file is synchronized with the currently active remote system when it is changed, created, or deleted. This enables faster interaction with the files and editor, more CDT editor features since the files are local, and continued interaction for editing etc. if the network connection is lost.
New Features for PTP 6.0 include....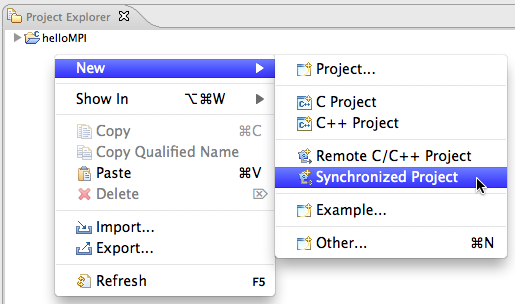 Fortran (Photran)
New Features
Support for highlighting matching parentheses/brackets (Bug 340607)
Error parsers for Cray, PGI, Open64 Fortran compilers (new feature) (Bug 371454)
Support for INCLUDE statements in fixed form sources (Bug 343077)
New Refactorings
Bug Fixes and Internal Enhancements