PDE UI Incubator ApiTools Compare
API Comparison Tool
What is it for?
The tool compares APIs exposed by two versions of your product. It reports changes that might break backward compatibility and provides a list of backward-compatible modifications.
Reports are produced as XML and HTML files. Here is the sample report: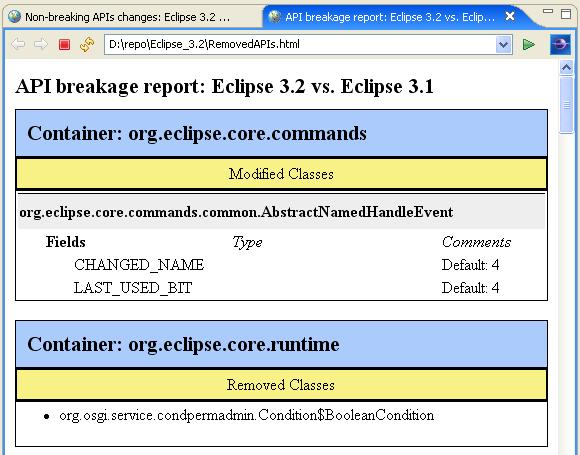 File:ApiToolsCompatibleReport.jpg
What's an API?
Good question. For starters here are some links; more information will be added later to this section. Evolving Java-based APIs - What is considered an API in Eclipse.
How does the tool work?
The tool contains two operations: create an API snapshot and compare the code against API snapshot.
Both operations can be accessed via menus or run in a batch mode.
The dialog to create API snapshot looks like this:
And the dialog to compare code with the API snapshot looks like this:
Getting the Pieces
Source code is stored in the PDE incubator (:pserver:anonymous@dev.eclipse.org:/cvsroot/eclipse) in the HEAD/pde-incubator/api-tooling/plugins.
There are two plug-ins:
org.eclipse.pde.api.tools
org.eclipse.pde.api.tools.ui
The Eclipse 3.3M4 or later should be used to compile those plug-ins.
Resources
Eclipse Bugzilla - Eclipse bug tracking database.
PDE Incubator - New projects that might be incorporated into PDE in future.
PDE UI Home Page - The main PDE UI web site.