Orion/Overview for Eclipse Committers
Welcome to Orion. This page will get you started with using the Orion server, hosted at http://orion.eclipse.org.
Logging into Orion
When you first attempt to access the Orion server, you'll be prompted for credentials. All Eclipse committers have been given an Orion id. Your user name is the email you have registered with the Eclipse Foundation. Your password <will be emailed???>. If you have any questions or your credentials are not working, contact <??????>
Working with Resources
In Orion, each user has a virtual "workspace" where they can work with various folders and files. These files are maintained on the Orion server. Please note that for the time being, data may be periodically deleted from the Orion server.
For demo purposes, we currently populate every user's workspace with two folders that contain some of the Orion client source code. Once you've successfully logged into Orion, you should see two folders:

This is the default navigator view for Orion. To navigate the files, you may either expand the folders (using the triangles), or you may click on the folder links to drill into that folder. The breadcrumb at the top of the navigator allows you to navigate back up the tree.
The commands that operate on the navigator are located adjacent to the breadcrumb. Commands that apply to individual files or folders are located in the Actions column next to the item. If you prefer a more traditional tree view that uses context menus, you can switch the navigator view using the button at the top of the page. (We are currently offering both views as we evolve the overall navigation UI and where contributed commands appear. See Bug 334189 and its dependents for more detail about this work.)

You can create folders and files using the buttons adjacent to the breadcrumb. You may also upload files into a folder onto the server using the import button.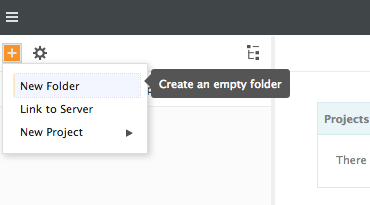 If you wish to import some code from Eclipse (or any other IDE) into Orion, you must first zip up the files you wish to import. Choose this zip file in the file selection prompt offered in the import dialog. (Choosing a non-zip file may break the import dialog on some browsers, see Bug 335890).

may click on the triangles to expand the folders and
table view and tree view - why we have two
creating folders and files (currently only create at child level, point to bug. Note we don't use the word project but there are projects underneath)
how to get stuff in (import) - you must be below the root, you must choose a zip, point to bug about dead dialog
how to get stuff out (export) - you must choose a zip
favorites
Basic text editing
Cut, copy, paste
Find, incremental find
Undo, redo
Your favorite text-editing features from Eclipse desktop (move up/down, copy up/down, go to line, etc.)
JavaScript development
Syntax highlighting
Outline
Validation
Bracket matching
Toggle comment, add block comment, remove block comment
Auto indentation
Firebug Integration
Show firebug letting you open an orion file
CSS development
Keyword-based content assist
HTML development
Java development
Some words here to discuss that our focus has not been Java, etc.
Search
Global search
Open resource
Editor find and incremental search
Searching without the client
Extending the Editor
How to add editor actions
For more information
point to self hosting page,etc.