Difference between revisions of "Orion/Documentation/User Guide/Reference/Search Results page"
Line 5:
Line 5:
 
 
 

[[Image:Orion-search-ResultOverview.png]]

 

[[Image:Orion-search-ResultOverview.png]]

 
+
 
+
 
+
 
+
 
+
 
+
 
+
 
+
 
+
 
+
 
+
 
+
 
+
 
+
 
+
 
+
 
+
 
+
 
+
 
+
 
+
---
Revision as of 17:44, 21 February 2012
Search Results page
The Search Results page displays files for any search performed in the search entry field in the title area of any page. Each file is expandable to display all the matches with the lines containing the search keyword and the line number. You can use right arrow key to pop up a 5-line context around the line or you can click on any file or match to open the Orion editor to see the whole file at that line. The page is designed to display multiple pages if the result files exceeds 40. There are previous and next page actions in the tool bar for you to go through all the results.
Click Save Search in the tool bar to bookmark a link to this search for future use. Note that this is a bookmark to the search, rather than a specific search result. Clicking a link in the Searches list of the Favorites panel will perform a new search with the same search terms.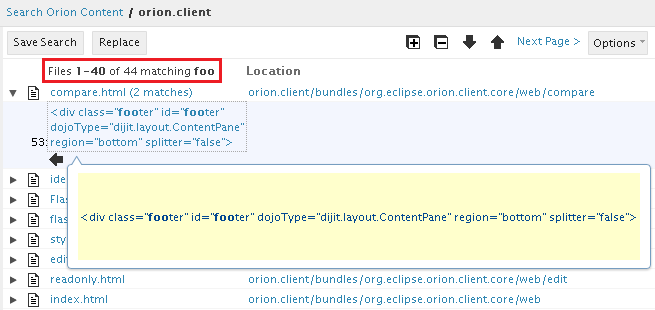 Saving search
Search scopes
Scoping down
Scoping up
Viewing details
Sort by name or location
Stale files
Current limitation
Replace page
You can replace all or part of the matches by a new string. The replace page displays all the files in a similar way as the result page does but in a addition to that you can use check box to quickly toggle the all, file and match levels. Please also note that if there are multiple matches in a single line, it will be "split" to multiple lines where you can filter on each match you want.
Invoking replace
Filtering matches
Viewing differences
Replacing page by page
Committing changes
Report page