OpenGENESIS WG
Mission
The mission of openGENESIS is to provide knowledge, methods and tools for the assessment of artificial intelligence (AI) used for autonomous driving. Learning algorithms should be proved to be safe and roadworthy before deployed to public road. From today's point of view, we are not able to completely understand and explain the detailed functionality of learned algorithms due to the high complexity. openGENESIS will supply public and regulation authorities with necessary approaches to deal with the challenges of approval and certification of AI. Providing a "TÜV for AI".
Added value
openGENESIS provides a collaboration platform for leveraging knowledge among members. The members cooperate with each other efficiently and provide the results in an open access domain. A strong global exchange between industry, research and regulators will be established. Arrive at a common understanding of quality aspects for artificial intelligence.
Scope
openGENESIS drives and supports the investigations of a verifiable, understandable and not least certifiable AI. This includes activities of adopting functional safety approaches to symbolic and subsymbolic artificial intelligence as well as the development of new methods and metrics for a formal verification of neuronal networks. Approaches regarding a better understandability as well as reproducibility of the decisions of AI will take place. An open data set will be established and research should be enabled with direct access to practice and safety relevant challenges. Finally, also social concerns should be considered in aspects for a certification of learned algorithms.
Structure
openGENESIS provides a convenient and legal framework with lean and efficient structures. This is ensured by the Eclipse Foundation, which hosts the working group of openGENESIS.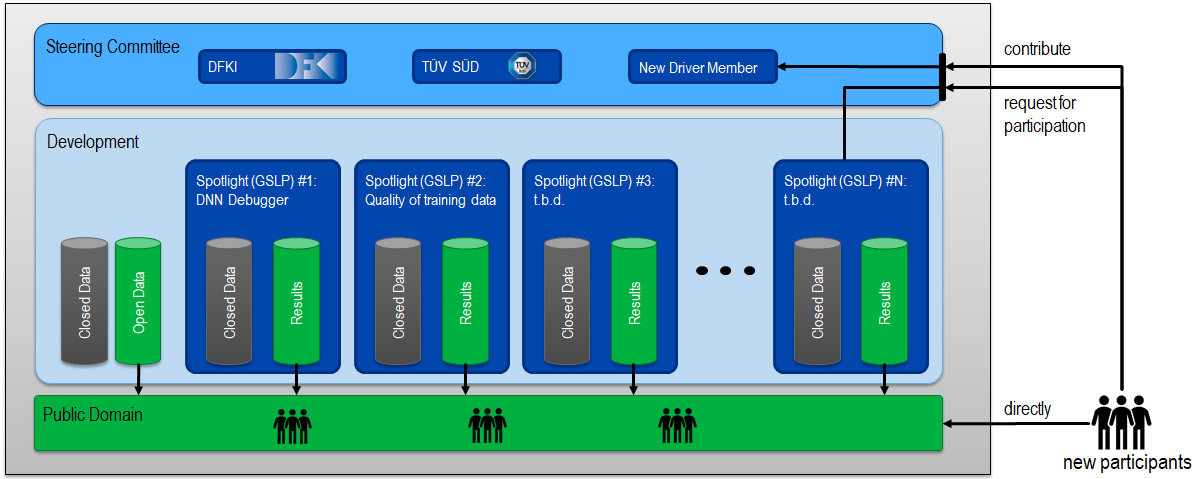 The working group enables the flexible setting of different – so called – openGENESIS spotlight pro-jects ("GSLP") among partners to solve concrete challenges that are to be defined by the spotlight projects. Such a spotlight project can be formed by one or more participants with a new aspect or im-proved approach that contributes to advances in the scope of openGENESIS. The partners retain their intellectual property, but have to share the results and methodologies with the community. Spotlight projects can provide data to other projects or to the open domain, if the spotlight partners agree togeth-er. To organize the working group a steering committee is established. This committee manages openGENESIS by defining and maintaining the scope as well as the road map, deciding on the acceptance and the inte-gration of new spotlight projects and act as a first contact.
Participation
To generally participate in the openGENESIS working group a minimum membership in the Eclipse Founda-tion as a "Solution Member" is necessary. Within the working group of openGENESIS two classes of memberships are available – Development Member and Driver Member. A detailed description of corresponding rights, duties and fees can be found in the openGENESIS Charta.
Development Members – which is usually without additional fee – need to execute the openGENESIS Participation Agreement. These members are able to initiate or participate in spotlight projects under the umbrella of openGENESIS. To start a spotlight project, a corresponding proposal with a project description should be sent to the steering committee. These proposals will be considered regularly. The description should contain at least the following information:
(tentative) title of spotlight project
your contact information
participating entities
objective of spotlight proposal
description of approach to reach the objec-tive
definition of planned data privacy

Driver Members – which contribute by annual fees to the working group – need to execute the openGENESIS Participation Agreement. Like the Develop-ment Members, they can initiate and participate in spotlight projects. They are additionally part of the steering committee. There they will sustain and shape the activities of the working group as well as maintain the scope of openGENESIS.
Founding members
DFKI (German Research Center for Artificial Intelligence)
TÜV SÜD
Current Status
The openGENESIS Charter is drafted and available for review .
Please contact ralph dot mueller at eclipse minus foundation dot org for more information.