OFMP
About OFMP
The Eclipse Open Financial Market Platform (Eclipse OFMP) is a project to create an open-source platform for interoperable, extensible financial market systems based on Equinox, Eclipse's OSGi framework. OFMP targets on components for Financial Markets applications. OFMP will open-source field-tested components from a bank's production environment connecting to common back-office and front-office systems.
Components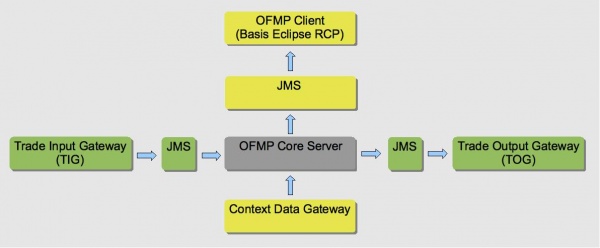 Services
Project Plan
2010-04 - Version 1.0.0M1

OFMP server based on Eclipse Virgo technologies and runtime
Deals, Counterparty, Currency, Mail, Security, Transaction, Date and Calendar services provided
The goal is to use Eclipse Gemini JEE services as soon as they are available.
Requirements
Java5
Oracle XE database v10.2
Resources