Nebula/Contributions/Setup IDE
Get your Eclipse Credentials
To provide patches to Nebula, create an Eclipse account, sign the ECA and get a GitHub account.
Create an Eclipse Account
Create an Eclipse Account (or use your existing one)
Sign the ECA
Create a GitHub Account
Create a GitHub account (or use your existing one)
Three Ways to Setup Your IDE
To setup your IDE there are three possibilities. Using the project set file is the easiest for newcomers.
Import our PSF file
Use Oomph
Setup manually
1. Import Project Set File
In an empty workspace select the URL below and open File/Import... en find Team/Team Project Set. Paste the url in the wizard that appears and lean back.
The wizard will fail if git was not setup correctly or if the nebula git directory already exists or if any of the projects already exists. In this case, install git, remove the nebula directory, run with a clean workspace or any combination of the previous options.
https://raw.githubusercontent.com/eclipse/nebula/master/releng/org.eclipse.nebula.feature/Nebula_All.psf
2. Import with Oomph
Use the Eclipse installer or, if you have already installed Oomph, use the Oomph import wizard and select Nebula. If Nebula is not in the list, add this setup file.
https://raw.githubusercontent.com/eclipse/nebula/master/oomph.setup
3. Clone the GIT Repo Manually
The Nebula repository on GitHub is here: https://github.com/eclipse/nebula. For example:
 C:\>git clone https://github.com/eclipse/nebula.git

Forking and Pull Requests
To be able to submit a Pull Request you need to fork the Nebula repository. See GitHub's extensive documentation on working with Pull Requests. Start with the GitHub flow overview and then continue with the rest of the documentation.
Start Eclipse
Open your Eclipse IDE and open the Git perspective
Add Local Git Repo
Add a local Git repository and find your freshly created repo
Import Projects
If you did not use the psf file then you have to use git to import the relevant projects. Import the widgets you want to work on from the widgets directory and import the first two example projects from the example directory.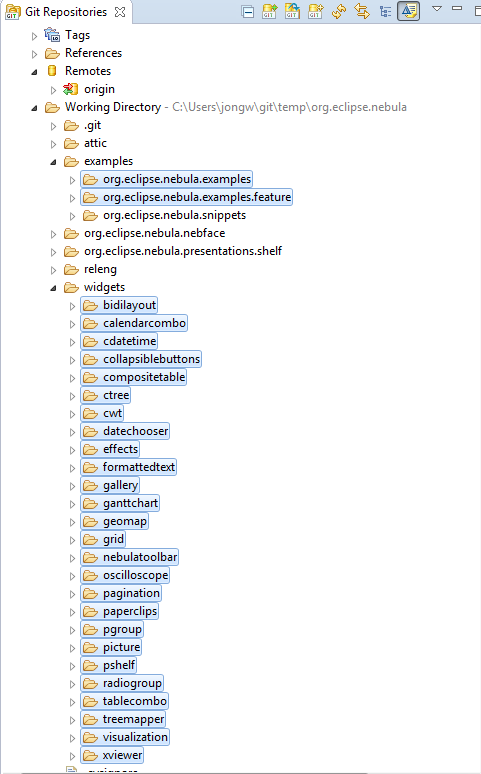 Run Eclipse
Create a new run configuration and press Run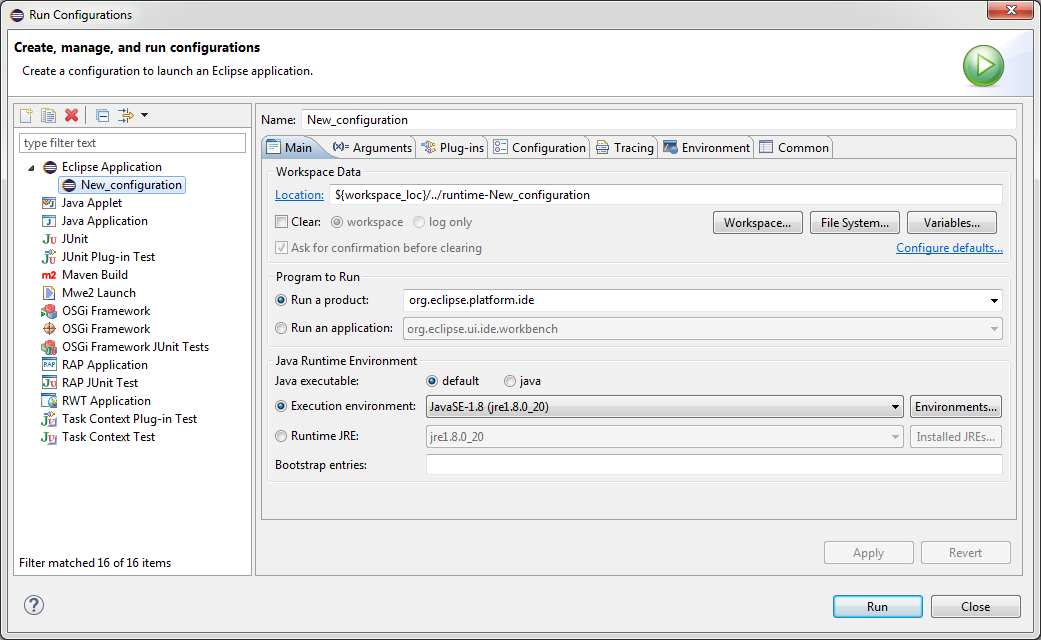 Open Nebula Perspective
Open the Nebula perspective and find the example view for your widget and test your changes. You can also test your changes by using the widget in a snippet or in your own project.