Mylyn/Context/Modeling Bridge
This work is developed by Tasktop Technologies and sponsored by Ericsson in the context of the Modeling Platform Industrial Working Group
Status
There are a few remaining usability related tasks, but basic implementation is complete. Currently, Mylyn for Modeling supports EcoreTools diagrams and Project Manager integration as well as Papyrus UML2 class diagrams. The supporting modeling bridge is designed to be relatively easy to extend to support arbitrary GMF supported diagram editor.
There are a number of additional extensions contemplated, including support for EMF Tree Editors.
Schedule (dates tentative)
We're hoping for an 0.9.0 release sometime in September.
Users
Installation
Currently, the features can be installed from:
http://ci.mylyn.org/job/mylyn-incubator-modeling-bridge/lastSuccessfulBuild/artifact/org.eclipse.mylyn.incubator-site/target/site/
Select Mylyn for EMF and GMF, along with Ecore Tools for Ecore and Ecore Diagram support and/or Papyrus for UML Class diagram support. (Mylyn for modeling has the minimal dependencies on those tools, so you should probably install the target tools separately if you don't already have them.) The tools should work with the Indigo Ecore Tools and Papyrus modeling components.
Please note that the project has not yet been contributed to Eclipse and so has not passed formal review. We don't anticipate any issues with this.
Developers
We've tried to design the modeling bridge so that it is easy to make your own GMF and other EMF-based editors and views Mylyn savvy. There are a number of artifacts to take care of but much of it is boiler-plate. (It would be straightforward to support this with a simple meta-model and code generation -- let us know if you'd like to participate in or support that effort!) Please let us know if you have any difficulties or improvements for the below steps.
Concepts
Users aren't interested in the diagram objects, they're really interested in the underlying domain or model objects. In the Mylyn Java integration, for example, Java classes and methods are tracked, and then revealed in various ways in different editors. So for an EcoreTools model for example, we don't want or need to keep track of the diagram Node objects or any other reference in the various foo.gmf.. files for, we want the domain object itself, e.g. EClass, EPackage, etc.. in the corresponding foo.ecore resource. What we need to do is to define what the user might be interested (or not interested) in and then map that to the diagram editors and other editor types.
Integrating Mylyn for Modeling with custom GMF editors
Recipe
Copy Existing Project
The best thing to do is just start with one of the two existing projects. We'd recommend org.eclipse.mylyn.modeling.papyrus.ui. org.eclipse.mylyn.modeling.ecoretools.ui will give you some ideas about how to work with a more complex scenario.
Refactor Artifacts
Rename files and other artifacts with the appropriate names. For example in your GMF "Foo" Diagram tool:
Uml2DiagramDecoratorProvider -> FooDiagramDecoratorProvider
In Plugin.xml

<decoratorProvider class="org.eclipse.mylyn.internal.modeling.papyrus.Uml2DiagramDecoratorProvider">

Becomes:

<decoratorProvider class="org.eclipse.mylyn.internal.modeling.foo.FooDiagramDecoratorProvider">

etc..
Define Model Specific Behavior
Here's where the non-boiler plate stuff is.
FooStructureBridge (Copied from Uml2StructureBridge)

Define domain objects which should be managed by Mylyn. See DomainModelContextStructureBridge for details.

FooUiBridge (Copied from Uml2UiBridge)

Define diagrams and views which should be managed by Mylyn. See DiagramUiBridge for details.
Project Details
Bugzilla
Release bug:
https://bugs.eclipse.org/bugs/show_bug.cgi?id=352032
All related bugs:
https://bugs.eclipse.org/bugs/buglist.cgi?short_desc=%5Bmodeling%5D;resolution=---;query_format=advanced;short_desc_type=allwordssubstr;component=Experiments;product=Mylyn%20Incubator
Bug Reports
Product: Mylyn Incubator
Component: Experiments
Deescription: Include "[modeling]" as keyword.
Git Repos
URL: git@github.com:MilesParker/mylyn.incubator.git
This is a temporary home only, we hope to contribute it to Eclipse git soon.
Projects: org.eclipse.mylyn.modeling.*
Communication
Please use: mylyn-incubator-dev. Discussion also on EMFT-dev.
Related Documents
Blog Post by Miles Parker on the current effort.
Blog post by David Green, Tasktop's VP of Engineering, for model-driven development diagrams based on a model similar to, but not based on, EMF.
Mik Kersten's PhD thesis on Mylyn. See especially Section 5.4.1.
Team
Miles Parker for Tasktop
Benjamin Muskalla Tasktop
Original Proposal
Context Bridge for EMF Models
In order to bring the productivity benefits of the task-focused interface to engineers using Eclipse-based modeling technologies, Tasktop will create a "Context Bridge" for EMF-based models and diagram editors. The result of this will be a focused mode for diagrams that shows only the elements related to the task-at-hand, dramatically reducing information overload for engineers working on large models. In addition, the task-focused interface extensions will provide Mylyn's one-click multitasking facilities for working with models, ensuring that engineers can instantly recover from interruptions, and share model-specific expertise, when working with models in addition to what Mylyn already provides for engineers working with source code.
This feature is a new technology, that to date has only been discussed in Kersten's PhD thesis and implemented by David Green, Tasktop's VP of Engineering, for model-driven development diagrams based on a model similar to, but not based on, EMF.[1]
High-Level Tasks
EMF Context Bridge
Integration between the EMF Ecore model with the Mylyn Context degree-of-interest model.
EMF-1: identity of Ecore elements is integrated with task context
EMF-2: relationships and containment are mapped to the degree-of-interest graph
EMF-3: degree-of-interest model elements updated on refactoring of model, for active task
EMF-4: contexts with refactored model elements are updated when loaded, eg, using refactoring history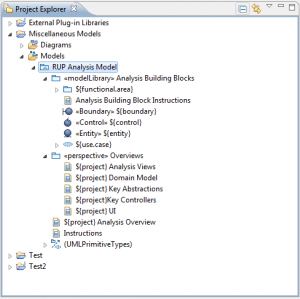 GEF Diagram Focusing
Support for user interface focusing and one-click multitasking facilities for models and diagrams[2] .
FOCUS-1: creation of figure filter, highlighter and layout for focused diagrams
FOCUS-2: degree-of-interest based view updated and model change notification integration
FOCUS-3: Ecore model focusing for Common Navigators
FOCUS-4: APIs for GEF figure focusing for downstream editors
FOCUS-5: usage tracking for Ecore model and GEF diagram editing and navigation
FOCUS-6: editor mementos are restored on task-reactivation
FOCUS-7: quick/in-place view of model elements in context
FOCUS-8: focus support for EMF models in GMF for UML models in Papyrus.