MoDisco/Installation

MoDisco is implemented as a set of plug-ins which have to installed into an already installed.
Using Eclipse Release Update Site (Recommended)
To install the latest MoDisco release, just point your Install Manager to the default eclipse predefined update site: http://download.eclipse.org/releases/__release_name__. For instance:
Then, you can select "Modeling" category and "MoDisco SDK" feature.
Ussing Modeling Package Installer
The Modeling Package (one of the Eclipse pre-packaged distributions) offers a direct access to install MoDisco.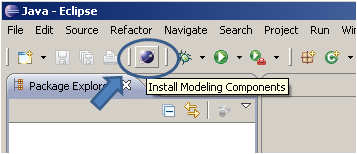 Follow the step-by-step instructions.
Using MoDisco Update Site to get an alternative version
To install an alternative MoDisco release, just point your Install Manager to one of the following sites:
Update site uses
The releases update site :
contains the release (GA) and the service release (SR): GA, SR1, SR2 ;
must be used by all the regular users.
The milestones update sites:
contain the milestones and release candidates: M1, M2, M3, M4, M5, M6, M7, RC1, RC2, RC3, RC4 (=GA), SR1 RC1, SR1 RC2, SR1 RC3, SR1 RC4 (=SR1), SR2 RC1, SR2 RC2, SR2 RC3, SR2 RC4 (=SR2) ;
must be used by the other Eclipse projects' build (release and milestone) ;
are referred by Indigo b3aggrcon file and Juno b3aggrcon file.
The nightly update sites:
contain the build of the SVN head ;
can be used to test a not yet released fix of a bug ;
must not be used to build any product release;
should be used by integration builds of the other release train members a few days before the milestones and release candidates to detect bugs or regressions.
To get more details about the MoDisco update site, and getting the latest components still in progress, please visit the following page: MoDisco/Updates.
Using zip version of update sites (Not recommended)
You can download the archive of the MoDisco updates sites form the MoDisco download page but you will have to resolves the dependencies and find the corresponding archived updated site. The EMF Facet team does not provide the list of the archived updated site to download to satisfy the dependencies, because it is to complicated to maintain. That's why this kind of installation is not recommended.