MoDisco/Installation
Using Modeling Package
The Modeling Package (one of the Eclipse pre-packaged distributions) offers a direct access to install MoDisco.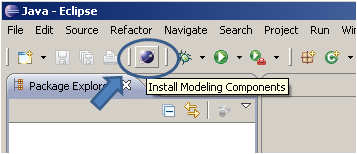 Follow the step-by-step instructions.
Using Eclipse Install Manager
To install the latest MoDisco release, just point your Install Manager to the following site:
To get more details about the MoDisco update site, please visit the following page: MoDisco/Updates.
Downloading zip
Latest release: MoDisco 0.8.0
It is also possible to download zips for other versions of MoDisco from the downloads page.
Required Configuration
If you want to download and install MoDisco manually (without using the update manager), the following projects must already be installed inside your Eclipse:
0.7.1
Java 5 (or higher) version of the Java virtual machine
0.8.0
Java 5 (or higher) version of the Java virtual machine