Lyo/SharepointAdapter
Prerequisites
Clone the Lyo Server git repository
This example assumes EGit is being used.
Open the Git Repositories view in Eclipse and click the Clone Git Repository icon
Use git://git.eclipse.org/gitroot/lyo/org.eclipse.lyo.server.git as the URI (browse it also on line). User/Password are not required.
On the Branch Selection page, select the master branch
On the Local Destination page, specify a location or accept the default and click Finish
The repository should now show up in your Git Repositories view.
Import Eclipse projects from the git repository
In the Git Repositories view, right click org.eclipse.lyo.server and select Import Projects
Select the Import Existing Projects wizard and click Next
Import the following projects:

org.eclipse.lyo.samples.sharepoint
TODO: screenshot
[Optional] Add the projects to a new working set.
Find and open the sharepoint.properties file.
Modify the values in the following key/value pairs:

The adapter_uri is used to specify the OSLC adapter which will sit between Microsoft Sharepoint and Rational Team Concert (RTC). It should be a working URI for the OSLC adapter servlet, e.g. http://localhost:8080/OSLCSharepoint. This servlet provides an OSLC Catalog, Service provider, an example of Creation and Selection dialogs and a delegated UI for sharepoint documents.
Next, specify the Microsoft Sharepoint service for OData by updating sharepoint_uri, usually this is specified by appending "_vti_bin/listdata.svc" to your Sharepoinnt server. (e.g.: http://www.sharepointserver.com:20001/_vti_bin/listdata.svc_.
Next, specify the basic authentication (userid, password) for accessing the Sharepoint server at the address for sharepoint_uri.
Build the projects
In the Eclipse Package Explorer view, select all the projects you've imported, right click, and select Maven->Update Project Configuration. Click OK.
Run Maven Install on each project in this order,
org.eclipse.lyo.server.samples.sharepoint

To run Maven Install,

Expand the project
Right click pom.xml and select Run As->Maven install.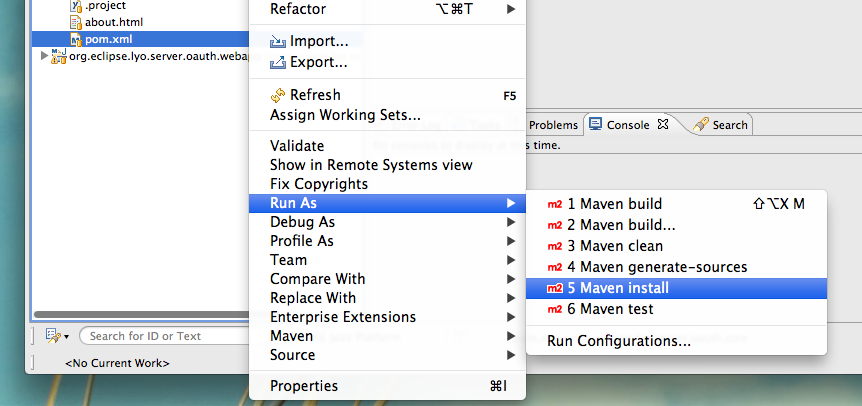 IBM JVM/JRE Users: There is an issue with m2eclipse and the the IBM JRE. If you have see the error java.lang.NoClassDefFoundError: org.slf4j.impl.StaticLoggerBinder when running a Maven install, you need to copy a newer slf4j api jar into your JRE directory to work around the issue until it is fixed:
KW -> Instructions here for running and using the adapter