Lyo/BuildClient
The Lyo Client provides helpful APIs and sample code that can be used to interact with OSLC Service Providers. It provides an additional layer of functionality on top of Apache HttpClient, Apache Wink, and OSLC4J that can give you a head start on some of the common use cases such as form login, OAuth handling, service discovery, sending queries, and processing query results. It also provides sample code that demonstrates how to use the Lyo client in interesting ways, such as acting as a remote agent for an OSLC Automation service provider.
Building and Running the Lyo Client in Eclipse
Prerequisites
EGit team provider for git (recommended) or git command line package.
m2eclipse for Maven support in the Eclipse IDE
Lyo client requires a Java 1.6 compiler and Java 1.6 runtime. The Eclipse project settings have been set appropriately. If you are building outside of Eclipse, please use Java 1.6.
Clone the Lyo Client git repository
This example assumes EGit is being used.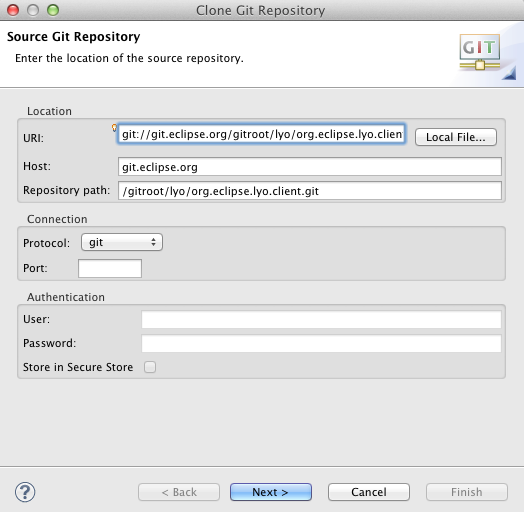 On the Branch Selection page, select the master branch
On the Local Destination page, specify a location or accept the default and click Finish
The repository should now show up in your Git Repositories view.
Import Eclipse projects from the git repository
In the Git Repositories view, right click org.eclipse.lyo.client and select Import Projects
Select the Import Existing Projects wizard and click Next
Import the following projects:

org.eclipse.lyo.client.java
org.eclipse.lyo.samples.clients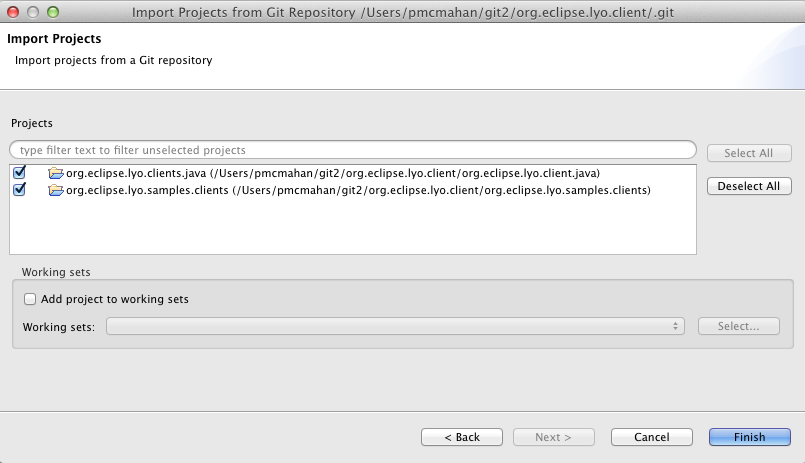 [Optional] Add the projects to a new working set.
Build all projects
Expand the org.eclipse.lyo.clients.java project
Right click pom.xml -> Run As -> Maven clean
Right click pom.xml -> Run As -> Maven install
Expand the org.eclipse.lyo.samples.client project
Right click pom.xml -> Run As -> Maven clean
Right click pom.xml -> Run As -> Maven install