IoT/M2MIWG/Demonstrator

The M2M Industry Working Group is working on setting up a demonstrator of the technologies that are being developed under its umbrella.
It has been decided to go with the use case of a connected greenhouse, reporting its status (temperature, humidity, luminosity) and being controllable (turning artificial lighting on/off).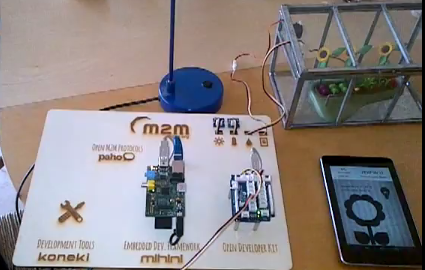 Demonstrator hardware setup
Using the demonstrator for showcasing commercial products build with Eclipse M2M technology
The members of the working groups are welcomed to use the same setup for show-casing their commercial products based on the Eclise M2M projects and promoting the interoperability of their solutions.
Examples :
connect the greenhouse using Paho MQTT to your commercial server product
wire a implementation of the greenhouse using your commercial embedded framework but connect it to m2m.eclipse.org server