IAM Buckminster Integration
< To: IAM

Introduction
When it's finished, Buckminster integration will allow IAM users to materialize Maven dependencies in their Eclipse workspace. That means that the user will be able to navigate through a Maven project's list of dependencies and to select what dependencies will be materialized in his/her workspace as Eclipse projects.
What is Buckminster
Buckminster is a component resolution and materialization framework presented as a plugin for Eclipse. For detailed information about this technology, please visit the Buckminster Project wiki.
IAM Buckminster integration features
Works with the Buckminster plug-in to materialize Maven dependencies. This allows us to rely on Buckminster's repository access and component materialization capabilities, being relatively easy for us to add support to new SCM systems in the future (as far as Buckminster supports them).
Right now, it allows the dependencies to be located in Subversion or CVS repositories, which should be enough for the most of users (at least we hope so).
User guide
To start materializing Maven dependencies you only need to follow this instructions:
Right click on a project managed by IAM (if a project has a pom.xml you can set it to be IAM-managed by right-clicking on it and toggling on the "Use Maven dependency management" option in the "Maven 2" sub-menu). Choose the "Materialize dependencies..." option in the "Maven 2" sub-menu.
A dialog will appear containing a list with those dependencies with a <scm> tag in their corresponding pom.xml's (more precisely, the <scm> tag must contain the <connection> tag for the dependency to be taken into account: obviously the plug-in needs to know where it must look for the dependency code ). Choose whatever dependencies you need to be materialized and click the OK button.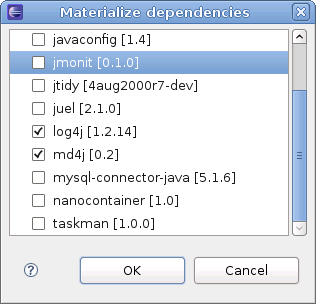 A CQUERY and a RMAP will be generated for each dependency (for details about CQUERYs and RMAPs please visit the Buckminster Project wiki) and Buckminster will try to materialize them. Be patient and, if nothing bad happens, the selected dependencies will appear as Eclipse projects in your workspace. (Right now, the feedback provided by the IAM Buckminster integration plug-in is almost non-existent, so if you need verbose information about what's happening during the materialization process you should go to the Eclipse preferences, then to the Buckminster section and set the console logger level as DEBUG).
How it works
This section aims to explain the general idea behind the IAM Buckminster integration, but it's not necessary for the user to read it. Also, it's highly recommended to have some basic knowledge about the Buckminster plug-in to better understand the following.
An example
Let's consider a Maven project like log4j. It's SCM information (extracted from the log4j version 1.2.14 pom.xml) looks like this:
<scm

>


  <connection

>

scm:svn:http://svn.apache.org/repos/asf/logging/log4j/tags/v1_2_14</connection

>


  <developerConnection

>

scm:svn:https://svn.apache.org/repos/asf/logging/log4j/tags/v1_2_14</developerConnection

>


  <url

>

http://svn.apache.org/viewcvs.cgi/logging/log4j/tags/v1_2_14/</url

>


</scm

>
Now, if log4j version 1.2.14 is one of the dependencies you choose to materialize, the IAM Buckminster integration plug-in will generate the following RMAP and CQUERY:
<rmap

 

xmlns

=

"http://www.eclipse.org/buckminster/RMap-1.0"

 
      

xmlns:xsi

=

"http://www.w3.org/2001/XMLSchema-instance"

 
      

xmlns:bc

=

"http://www.eclipse.org/buckminster/Common-1.0"

 
      

xmlns:mp

=

"http://www.eclipse.org/buckminster/MavenProvider-1.0"

>


  

<searchPath

 

name

=

"log4j"

>


    

<provider

 

readerType

=

"svn"

 

componentTypes

=

"unknown"

 

source

=

"true"

>


      

<uri

 

format

=

"http://svn.apache.org/repos/asf/logging/log4j/trunk"

/>


      

<versionConverter

 

type

=

"tag"

 

versionType

=

"String"

>


        

<transform

 

fromPattern

=

"^(.+)$"

 

fromReplacement

=

"$1"

 

toPattern

=

"^(.+)$"

 

toReplacement

=

"$1"

/>


      </versionConverter

>


    </provider

>


    

<provider

 

readerType

=

"svn"

 

componentTypes

=

"unknown"

 

source

=

"true"

>


      

<uri

 

format

=

"http://svn.apache.org/repos/asf/logging/log4j/trunk"

/>


      

<versionConverter

 

type

=

"tag"

 

versionType

=

"String"

>


        

<transform

 

fromPattern

=

"^(\d+)\.(\d+)$"

 

fromReplacement

=

"v$1_$2"

 
                   

toPattern

=

"^v(\d+)_(\d+)$"

 

toReplacement

=

"$1\.$2"

/>


        

<transform

 

fromPattern

=

"^(\d+)\.(\d+)\.(\d+)$"

 

fromReplacement

=

"v$1_$2_$3"

 
                   

toPattern

=

"^v(\d+)_(\d+)_(\d+)$"

 

toReplacement

=

"$1\.$2\.$3"

/>


      </versionConverter

>


    </provider

>


    

<provider

 

readerType

=

"svn"

 

componentTypes

=

"unknown"

 

source

=

"true"

>


      

<uri

 

format

=

"http://svn.apache.org/repos/asf/logging/log4j/trunk"

/>


      

<versionConverter

 

type

=

"tag"

 

versionType

=

"String"

>


        

<transform

 

fromPattern

=

"^(\d+)\.(\d+)$"

 

fromReplacement

=

"v_$1_$2"

 
                   

toPattern

=

"^v_(\d+)_(\d+)$"

 

toReplacement

=

"$1\.$2"

/>


        

<transform

 

fromPattern

=

"^(\d+)\.(\d+)\.(\d+)$"

 

fromReplacement

=

"v_$1_$2_$3"

 
                   

toPattern

=

"^v_(\d+)_(\d+)_(\d+)$"

 

toReplacement

=

"$1\.$2\.$3"

/>


      </versionConverter

>


    </provider

>


    

<provider

 

readerType

=

"svn"

 

componentTypes

=

"unknown"

 

source

=

"true"

>


      

<uri

 

format

=

"http://svn.apache.org/repos/asf/logging/log4j/trunk"

/>


      

<versionConverter

 

type

=

"tag"

 

versionType

=

"String"

>


        

<transform

 

fromPattern

=

"^(.*)$"

 

fromReplacement

=

"log4j_$1"

 

toPattern

=

"^log4j_(.*)$"

 

toReplacement

=

"$1"

/>


        

<transform

 

fromPattern

=

"^log4j_$"

 

fromReplacement

=

"log4j\."

 

toPattern

=

"^log4j\.$"

 

toReplacement

=

"log4j_"

/>


        

<transform

 

fromPattern

=

"\."

 

fromReplacement

=

"_"

 

toPattern

=

"_"

 

toReplacement

=

"\."

/>


      </versionConverter

>


    </provider

>


    

<provider

 

readerType

=

"svn"

 

componentTypes

=

"unknown"

 

source

=

"true"

>


      

<uri

 

format

=

"http://svn.apache.org/repos/asf/logging/log4j/trunk"

/>


      

<versionConverter

 

type

=

"tag"

 

versionType

=

"String"

>


        

<transform

 

fromPattern

=

"^(\d+)\.(\d+)$"

 

fromReplacement

=

"RELEASE-$1_$2"

 
                   

toPattern

=

"^((?i)(RELEASE))-(\d+)_(\d+)$"

 

toReplacement

=

"$3\.$4"

/>


        

<transform

 

fromPattern

=

"^(\d+)\.(\d+)\.(\d+)$"

 

fromReplacement

=

"RELEASE-$1_$2_$3"

 
                   

toPattern

=

"^((?i)(RELEASE))-(\d+)_(\d+)_(\d+)$"

 

toReplacement

=

"$3\.$4\.$5"

/>


      </versionConverter

>


    </provider

>


  </searchPath

>


  

<locator

 

searchPathRef

=

"log4j"

 

pattern

=

"log4j"

/>


</rmap

>
<componentQuery

 

xmlns:cq

=

"http://www.eclipse.org/buckminster/CQuery-1.0"


                

resourceMap

=

"file:///home/superman/workspace/iam_rmap_log4j_999.rmap"

>


  

<rootRequest

 

name

=

"log4j"

 

componentType

=

"unknown"

 

versionDesignator

=

"[v1_2_14,v1_2_14]"

 

versionType

=

"String"

/>


</componentQuery

>