Difference between revisions of "Getting Started With Aggregator (Buckminster)"
Line 43:
Line 43:
 

# Select the feature that you want to map and hit enter.

 

# Select the feature that you want to map and hit enter.

 

#:[[Image:Buckminster_Select_Feature.png]]

 

#:[[Image:Buckminster_Select_Feature.png]]

 
+
 
 
−

More to follow...

+

to . .
---
Revision as of 01:54, 29 June 2009
Installing Eclipse and the Aggregator
Install a fresh Eclipse 3.5 Platform from this location http://download.eclipse.org/eclipse/downloads/drops/R-3.5-200906111540/index.php
and enter the URL http://download.eclipse.org/tools/buckminster/tools in the Location field.
Select the Buckminster Aggregator Editor and click Next twice.
Accept the Eclipse Public License and click Finish
Restart the IDE once the installation is finished.
Creating your first aggregation
Create a new empty project. Here it's called aggregation.example but any name will do.
Select Buckminster -> Aggregator Model and click Next
Name the aggregation. Here it's called example.build. Note that the name must end with .build
Click Finish. That will bring up the Aggregation Editor on an empty model.
When working with the model, it is essential that you see the Properties view. You open this view by right-clicking on the top resource (the one labeled platform:/resource/aggregation.example/example.build) and select Show Properties View in the pop-up menu.
Add a Configuration
In order for validation to take place, you must add platform configurations to the model. You can start by adding a configuration that contains the default values. Expand the top resource and right click on the Aggregation element. Select New Child -> Configuration. The result should now look like this: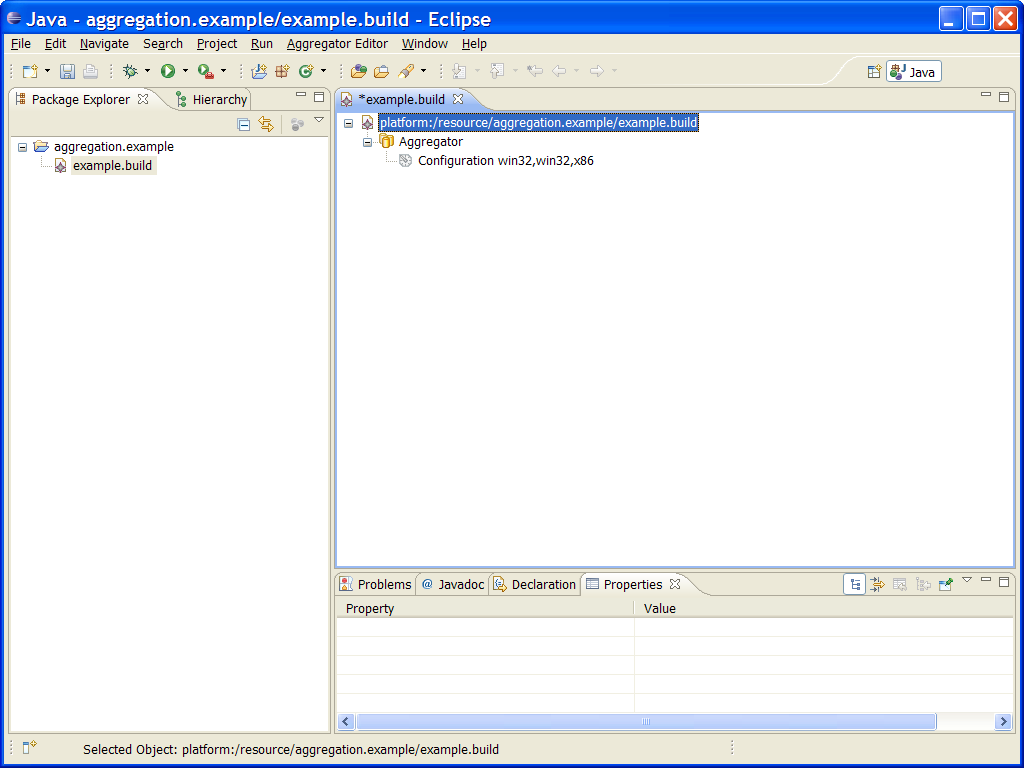 Add a Contribution
Everything that is mirrored is based on Contributions. A Contribution defines one or several P2 repositories to include in the aggregation. You may also specify one or several contacts that will receive emails when problems are encountered that can be associated with the contribution. The contacts are optional. If no one is specified and an email needs to be sent, that email will be sent to the buildmaster.
You add a Contribution the same way that you added the Configuration.
Adding a P2 repository
Once a contribution is added, you can add a MappedRepository to it. Again by right clicking and selecting New Child. The repository has some properties that will become visible and editable in the Properties pane. Type a URL to a valid repository in the Value column of the property named Location and hit return. A short delay where the UI feels locked is to be expected here since the repository is loaded. If successful, you should now see this: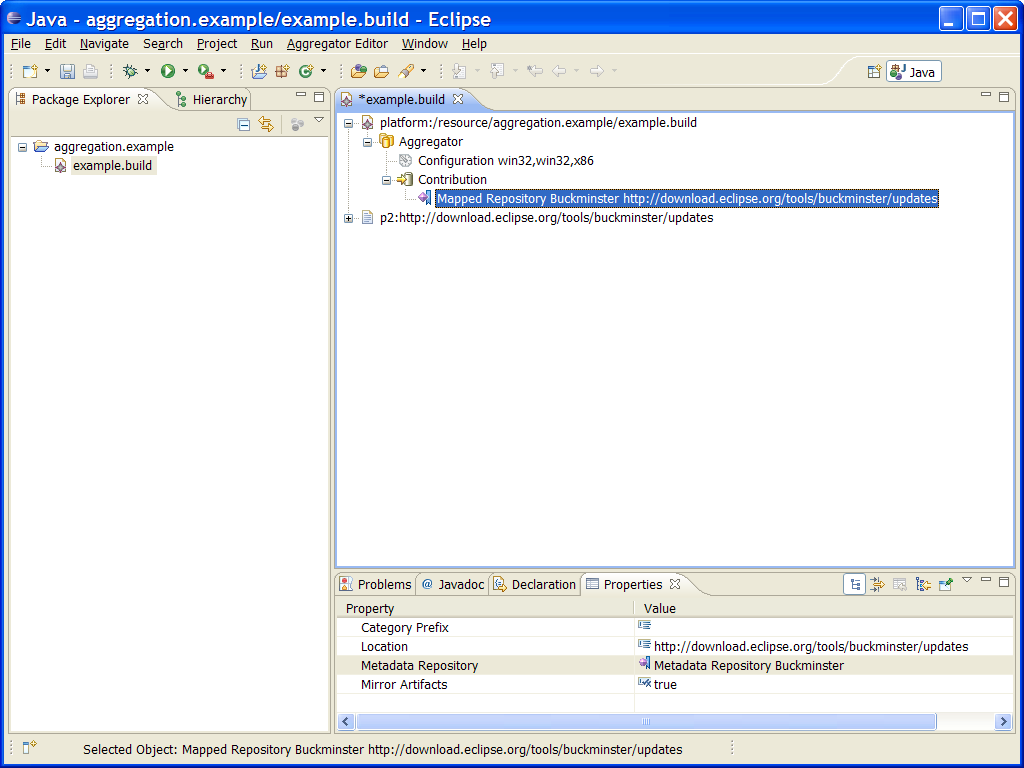 Adding content to the repository
A repository can either be mapped verbatim, in which case you cannot make any changes to categories or, it can be mapped piece by piece. A piece in this case is a category, a feature, a product, or a bundle.
Mapping verbatim
You can a whole repository just as it stands by setting the map verbatim flag to true. When you do, all nodes beneath the repository will be hidden since they no longer have any meaning (they will reappear if you set map verbatim to false again).
Choosing specific content
You can map specific categories, features, products, or bundles from a repository by adding them as children. When you add a child, you bind it to one of the features present in the repository denoted by the parent. Like this:
Right click on the Mapped Repository and select New child (if this choice is not available in the menu, you probably have the Map verbatim flag set to true).
Put your cursor in the Installable Unit value field in Properties tab. It now turns into a drop-down box.
The feature can be added to an added category. Such categories can be added after they have been added to the top node, i.e. right click on the Aggregation and choose New Child and then Custom Category
Other types of content can be added the same way. We plan to make it possible to add a category with a rename option in a coming iteration. At present, categories can only be mapped verbatim and you have to create a Custom Category and add features to it manually in case you want another name.