Eclipse Embedded Day Stuttgart 2009
Eclipse Embedded Day in Stuttgart

Eclipse Embedded Day is a day-long event for senior technical developers, architects and technical managers in the automotive, telematics, mobile, consumer electronic and medical industry to learn how to better leverage Eclipse technology and the Eclipse community as part of their development strategy. In addition the event features sessions on Eclipse projects related to the embedded space and case studies of automotive, telematics, mobile, medical, consumer electronic institutions. The event will focus on three themes:
Eclipse as a platform for application development in the embedded space;
Collaborating with the open source community, Working Groups;
Case studies of projects of companies in the automotive, telematics, medical or consumer electronics area
Attendees will have the chance to hear speakers from leading companies in the embedded space and experts from the Eclipse community. There is no cost to attend but pre-registration is required.
You can also follow the event on Twitter
Date & Location
June 25, 2009 8:30am - 5:30pm
Note: this is intentionally directly after the SPICE Days, at the same location
Sport, Bildungs- und Dienstleistungszentrum GbR
Fritz-Walter-Weg 19
70372 Stuttgart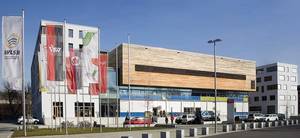 Sponsors
Media Partner
Embedded Day in the Media
Agenda
Time
Track 1
Track 2
8:30 - 9:00
Registration
9:00 - 9:15
Introduction - Ralph Müller (Director, Ecosystem - Europe, Eclipse Foundation)
9:15-10:00

Provisioning and managing embedded systems
Jeff McAffer (Eclipse Equinox Project Co-Lead & EclipseSource)

10:15-10:45

Managing Open Source Legal Issues
Janet Campbell (Legal Counsel, Intellectual Property, Eclipse Foundation)

Profiling Java Applications Running on Embedded Devices with Restricted Resources
Dr. Dimitar Valtchev (CTO, ProSyst Software GmbH)

10:45-11:15
Break
11:15-11:45

Distributed Embedded Systems with Ambicomp
Johannes Eickhold (Technical University of Munich and Karlsruhe)

The interplay between Models, Generators and Variants
Markus Völter, Andreas Graf (itemis AG)

12:00-12:30

How Mature are Maturity Models?
Hans-Jürgen Kugler (Chief Scientist, KUGLER MAAG CIE GmbH)

Accelerating vector graphics output with openVG
Radu Ciolac (MicroDoc Computersysteme GmbH)

12:30-13:30
Lunch
13:30-14:00

An open OSGI Embedded platform for Intelligent Transport
Eliane Fourgeau (VP Marketing, Geensys SAS)

Building an embedded software IDE on top of Eclipse
Gaetan Morice (Anyware Technologies)

14:15-14:45

Open-DO and OSEE: agile methods for producing high-integrity software
Nicolas Setton (Adacore)

Nutzen und Grenzen der Erweiterbarkeit von Eclipse CDT (ein Erfahrungsbericht)
Harald Kästel-Baumgartner (Bosch Rexroth, The Drive & Control Company, Electric Drives and Controls)

14:45-15:15
Break
15:15-15:45

Hardwarefreies Embedded Software Development
Thomas Donhauser(SKIDATA AG)

OSGi: The Best Tool in Your Embedded Systems Toolbox
James Branigan, Brett Hackleman (Band XI International)

16:00-16:30

Artop – a shared platform for AUTOSAR tool development
Christian Knüchel (BMW Car IT)

99,99% Testautomation using OSGi, Eclipse and FitNesse
Marcus Hohloch (Daimler FleetBoard GmbH)

16:45-17:00
Closing - Ralph Müller (Director, Ecosystem - Europe, Eclipse Foundation)
Attendee Registration
All attendees must pre-register for this event. There is no cost to register but space is limited, so we suggest you register early. To register, please send an e-mail to Christine Mitterbauer and your name will be added to the wiki.
Registered Attendees
Ralph Müller, Eclipse Foundation
Philipp Graf, FZI Forschungszentrum Informatik an der Universität Karlsruhe
Venelin Dimov, Siemens AG, Industry Automation Division
Juan Domingo Florencio Duarte, Mercedes-Benz technology, electronics solutions
Dr. Tilmann Bubeck, reinform AG
Christian Rassek, Valyue Consulting GmbH
Maximilian Bock, Heidelberg Postpress Deutschland GmbH
Dr. Frank Gerhardt, Gerhardt Informatics Kft.
Lars Vogel, www.vogella.de
Stephan Hostie, SynSpace AG
Martin Himmel, eFulfilment Transaction Services GmbH
Bernard Haible, ETAS GmbH
Marc Schanne, ITK Engineering AG
Artur Lojewski, babka software
Markus Grimm, Softwarearchitekt
Karl Schleier, TRW Automotive
Christoph Pöhlmann, TRW Automotive
Andreas Baier, Heidelberg Postpress Deutschland GmbH
Heiko Baur, Robert Bosch GmbH Plochingen
Peter Haeusler, Robert Bosch GmbH Plochingen
Eberhard Kümmel, Robert Bosch GmbH Plochingen
Volker Mader, Robert Bosch GmbH Plochingen
Hans Sperber, Robert Bosch GmbH Plochingen
Klaus-Dieter Niemann, Heidelberg Postpress Deutschland GmbH
Christian Knüchel, BMW Car IT GmbH
Eliane Fourgeau, Geensys
Axel Terfloth, itemis AG
Lothar Wendehals, itemis AG
Gerd Zanker, Bosch Thermotechnik GmbH
Georg Grütter, Robert Bosch GmbH
Harald Kästel-Baumgartner, Bosch Rexroth
Markus Völter, itemis AG
Andreas Graf, itemis AG
Andrej Thiele, itemis AG
Markus Zelleröhr, Verigy Germany GmbH
Hans-Jürgen Kugler, KUGLER MAAG CIE
Alexander Rieger, Innovations Software Technology GmbH
Markus Schärtel, Innovations Software Technology GmbH
Michael Gantert, Innovations Software Technology GmbH
Michael Städtler, Innovations Software Technology GmbH
Benjamin Fiebig, Innovations Software Technology GmbH
Oliver Feifel, Innovations Software Technology GmbH
Dr. Dimitar Valtchev, ProSyst Software GmbH
Dr.-Ing. Klaus-Rüdiger Hase, Deutsche Bahn AG
Janet Campbell, Eclipse Foundation
Jeff McAffer, EclipseSource
Radu Ciolac, MicroDoc Computersysteme GmbH
Benjamin Felix, Geensys
Gaetan Morice, Anyware Technologies
Nicolas Setton, Adacore
Thomas Donhauser, SKIDATA AG
James Branigan, Band XI International
Brett Hackleman, Band XI International
Marcus Hohloch, Daimler FleetBoard
A R Imran, Robert Bosch GmbH
Harris Brakmic, Deutsche Telekom AG
Michael Burgbacher, phion AG
Martin Grundmann, Nokia Siemens Networks GmbH & Co. KG
Ingo Dohmann, I. Dohmann GmbH
Kay Dohmann, I. Dohmann GmbH
Ulrich Scheere, ICT Software Engineering Südwest GmbH
Rainer Goergens, Brunel GmbH
Hendrik Höfer, MicroDoc Computersysteme GmbH
Dr. Manuel Galvez-Estrada, debitel AG
Matthias Albert, SEW-EURODRIVE GmbH & Co
Gabriel Reschka, BFFT Gesellschaft für Fahrzeugtechnik mbH
Matthias Zacharias, BMK electronic solutions GmbH
Volker Ullmann, BMK electronic solutions GmbH
Tobias Weichbrodt, mm-lab GmbH
Markus Kaufhold, mm-lab GmbH
Uwe Asbach, ICT Software Engineering Südwest GmbH
Johan Strömhage, Purple Scout AB
Emil Erlandsson, Purple Scout AB
Reference: Sega Board and Eclipse Logo