Eclipse DemoCamps November 2009/Vienna

What is an Eclipse DemoCamp?
Location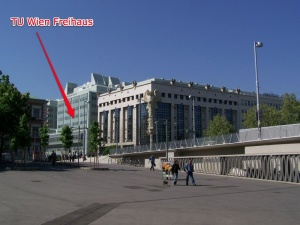 TU Vienna (Google Maps)
Room TBD
Date and Time
November 30, 2009
18:00 - 21:00 : Talks, between one break with refreshments
21:00 - "open end" : Eclipse come together
Organizers
Sponsors
Planned Presenters
Michael Clay, codeworkz.at, "Xtext" (Modelling)
Peter Kofler, code-cop.org, Free Quality and Code Metric Plugins Demo
Lixto Team, Lixto Software GmbH, "Lixto Visual Developer" (Eclipse based tool)
Karl Hönninger, s-IT Solutions GmbH, "openXMA DSL" (Xtext DSL for RIA GUIs)
Maximilian Weißböck: "MDSD using Eclipse 3.5, Xtext and Xpand" (Xtext, Hibernate, Tapestry)
Werner Keil, CATMedia, "STEM"
Christoph Mayerhofer, INSO, "ReviewClipse"
Tom Schindl, BestSolution.at, "e4"
Florian Pirchner, "Riena-EMF-Dynamic-Views"
Robert Handschmann, Sphinx IT Consulting, "MDSD with Serapis using Eclipse Plugins"
Philip Langer, Business Informatics Group, TU Wien, "Model-Refactoring" (based on EMF)
Who Is Attending
If you plan on attending please add your name and company to the list below. We'd like to see as many people show up as possible.
If you don't want to create an account, just drop us a mail at democamp09@jsug.at or message Michael Clay on Xing. We really appreciate it!
Michael Clay
Peter Kofler
Christian Schiestl, Sphinx IT Consulting
Michael Greifeneder, JSUG
Robert Baumgartner, Lixto Software GmbH
Gerald Ledermueller, Lixto Software GmbH
Alex Hartmann, Lixto Lixto Software GmbH
Karin Schellner, Lixto Software GmbH
Karl Hönninger
Maximilian Weißböck
Werner Keil
Christoph Mayerhofer
Tom Schindl
Josef Krammer
Florian Pirchner
Ralph Mueller, Eclipse Foundation (will pay the beer after the event)
Bernd Schlapsi
Joachim Grüneis
Julian Motamedi
Hans Sowa
Robert Handschmann, Sphinx IT Consulting
Philip Langer
Gregor B. Rosenauer, ITSV GmbH
Michael Schaffler, CIIT
Christoph Nagl