Eclipse DemoCamps Helios 2010/Nieuwegein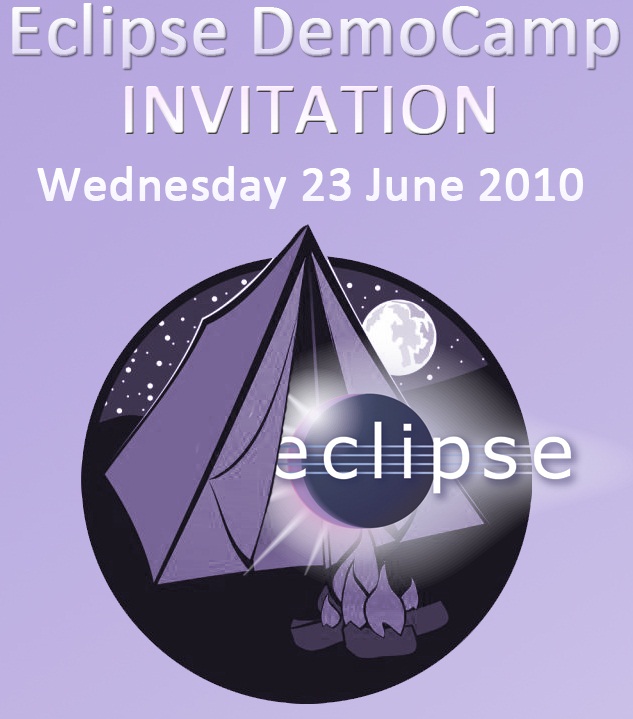 What is an Eclipse DemoCamp?
Location
Industrial-TSI BV Dukatenburg 82b 3437 AE Nieuwegein The Netherlands
Date and Time
Wednesday June 23. Starts @ 6pm, ends @ 10pm
Organizer
Yuri Kok, Industrial TSI
Presenters
If you would like to present at the DemoCamp, please feel free to add your name and topic to the list. If you don't have a Eclipse Bugzilla account you can send an email to democamp@industrial-tsi.com to register. Registration is mandatory for Presenters and Participants. Food & Beverages are provided during and after the demo's. This is your chance to meet up with Eclipse enthusiastics from the Benelux area.
@ Presenters: demo's may last no longer than 20 minutes and must be Eclipse related @ Participants: enjoy the demo's!
Wim Jongman, Eclipse as a Framework, Helois release & e4
Walter Ridderhof, Eclipse Swordfish - SOA Runtime Framework Project
Jos Warmer, Mod4j - Modeling for Java (demo only, in the spirit of a democamp)
Ief Cuynen and Tom Bauwens, SmartApps - Single-sourcing demo Eclipse RCP / RAP (As seen on YouTube)
Who Is Attending
If you plan on attending please add your name and company to the list below. If you have any trouble with the wiki, just send an email to democamp@industrial-tsi.com
Yuri Kok, Industrial TSI
Marco Kok, Industrial TSI & Remain Software
Wim Jongman, Industrial TSI & Remain Software
Wing Yu Chong, Remain Software
Walter Ridderhof, Industrial TSI & Remain Software
Roald Hopman, Industrial TSI
Said Taaouati, Remain Software
Martijn Cremer, SmartApps
Ief Cuynen, SmartApps
Tom Bauwens, SmartApps
Jeroen Griffioen, O2U
Jos Warmer, Mod4j