Difference between revisions of "Eclipse DemoCamps Helios 2010/Nieuwegein"
Line 62:
Line 62:
 

#Gerry Both, HiPeS

 

#Gerry Both, HiPeS

 

#Joris Spekreijse

 

#Joris Spekreijse

 
+
---
Revision as of 09:54, 3 June 2010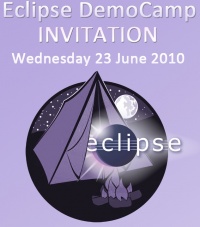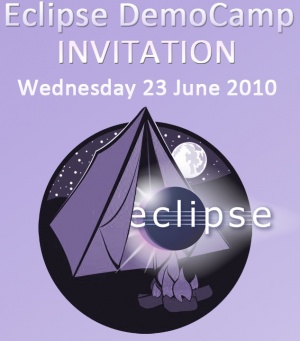 What is an Eclipse DemoCamp?
Location
Industrial-TSI BV Dukatenburg 82b 3437 AE Nieuwegein The Netherlands
Date and Time
Wednesday June 23. Starts @ 6pm, ends @ 10.30pm
Organizer
Yuri Kok, Industrial TSI
Presenters
If you would like to present at the DemoCamp, please feel free to add your name and topic to the list. If you don't have a Eclipse Bugzilla account you can send an email to democamp@industrial-tsi.com to register. Registration is mandatory for Presenters and Participants. This is your chance to meet up with Eclipse enthusiastics from the Benelux area. Food & Beverages are provided during and after the demo's (small meal between 19:45-20:30). This cool event is free of costs.
KEYNOTE: Ralph Mueller, State of the Eclipse Foundation / New and Noteworthy (18:30-19:00)
Olivier Wolf, "Eclipse Swordfish -- Service-oriented software development made easy" (19:00-19:20)
Wim Jongman, Eclipse as a Framework, Helios release & e4 (19:25-19:45)
Jos Warmer, Mod4j - Modeling for Java (demo only, in the spirit of a democamp) (20:30-20:50)
Olivier Wolf, "SOA at Eclipse -- the Eclipse SOA Initiative" (20:55-21:15)
Ief Cuynen and Tom Bauwens, SmartApps - Single-sourcing demo Eclipse RCP / RAP (As seen on YouTube) (21:20-21:40)
Who Is Attending
If you plan on attending please add your name and company to the list below. If you have any trouble with the wiki, just send an email to democamp@industrial-tsi.com
Yuri Kok, Industrial TSI
Marco Kok, Industrial TSI & Remain Software
Wim Jongman, Industrial TSI & Remain Software
Wing Yu Chong, Remain Software
Walter Ridderhof, Industrial TSI & Remain Software
Roald Hopman, Industrial TSI
Said Taaouati, Remain Software
Martijn Cremer, SmartApps
Ief Cuynen, SmartApps
Tom Bauwens, SmartApps
Jeroen Griffioen, O2U
Jos Warmer, Mod4j
Ron Kersic, Mirabeau
Carel Bast, Modeling Value Group
Tom Brus, Modeling Value Group
Arco Oost, Capgemini
Maarten Meijer, Eclipse RCP trainer & consultant
Vincent Kappert, Capgemini
Ralph Mueller, Director, Eclipse Ecosystem - Europe
Oliver Wolf, Chief Architect @ SOPERA
Marcel Grauwen, GloMidCo
Niek Linnenbank, Industrial TSI
Olaf Vogelbusch, V O G E L B U S C H GmbH
Thomas Raddatz
Paul Broekhoven, PROGRESS SOFTWARE EUROPE BV
Frank Lambour, Talend
Martin Taal, Springsite/EMF Teneo-Texo-CDO
Jeroen Lankheet, Loxia
Gerry Both, HiPeS
Joris Spekreijse
Jeroen van Grondelle, Be Informed