Eclipse Day Delft 2012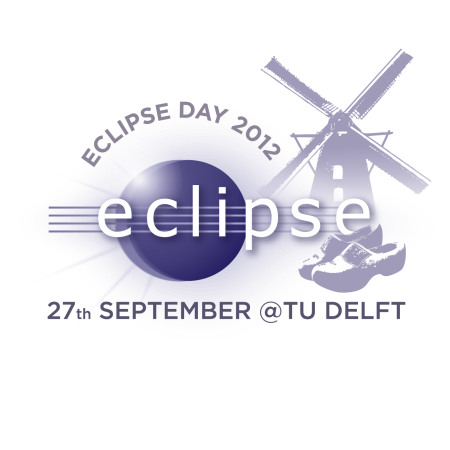 This year, the Eclipse Day in Delft, Netherlands, will focus on tools and techniques to support the software development process, including software maintenance. Visitors of the day will learn how to manage the software development lifecycle with Eclipse-based tooling. The event will take place on 27 September, 2012.
Talks will cover techniques and tools helping during tracking bugs and features, code development, quality assurance, and during building and deploying software.
Sessions
The Eclipse Day Delft focuses on interaction and on stimulating discussion between participants. Several excellent talks lasting 30 minutes will inform you about noteworthy and new Eclipse technologies, whereby the discussion rounds throughout the day will allow to get in contact with other participants and speakers. In the late afternoon, demo sessions and drinks will provide plenty of opportunities for networking.
The Eclipse day on September 27 will start at 8:30 and end around 18:00.
The details about sessions and speakers will be announced in late August.
Location
Congress center (Aula) TU Delft
Mekelweg 5, 2628 CC, Delft
The Netherlands

Call for Papers
The call for papers is now OPEN. Please send your proposal about tools and techniques to support the software development process, including software maintenance with Eclipse technology to: Eclipse Day Delft Organizers
Your presentation:
Talks must fit in at least one of the main subjects of the day and will be max. 30 minutes long
Proposals should be one page long (between 250-400 words) and should make the content and message of talk clear
Prepare a separate file about the speaker (containing the name, biography and contact information) and send it with the proposal
Your submission will be reviewed by a committee and will be placed in the appropriate time slot
There is one 30 minute available for sponsors (no review by committee)
Talks must fit in one of the main subjects of the day:
Track and Control
Talks focusing on tools and practices to control the process of tracking bugs and/or new feature requests. Talks informing about version (source) control systems such as SVN or Git.
Code
Talks demonstrating best practices and tools to help the developer write code in Eclipse while reducing effort and increasing quality. For example, new or noteworthy techniques such as code generators, annotation processors, JVM, OSGi, and so on.
Quality Assurance
Talks addressing quality assurance. This includes tools and practices to assure and improve code quality (e.g., static analysis), testing tools and practices, as well as continuous integration solutions.
Build
Talks about tools and practices that aid in building final deployable products from code.
Deploy
Talks informing about tools and practices facilitating deployment of software during several stages in the software development process (e.g., deploying in test and/or production environments).

Integrate
Talks demonstrating how several tools and practices can be integrated into a holistic software development lifecycle.
Experience Reports
Talks reporting significant experiences with Eclipse-based tools to support the software development process.

Examples:
Track: Bug tracking tools and processes, Release / Iteration tracking tools and processes, Task Management, VCS (git, svn, ..)
Code: WYSIWYG Editors, JVM Tools, Annotation Processors
Quality Assurance: Test automation, Code smell detection, Profiling, Code Review, Continuous Integration
Build: Build Automation
Deploy: Promotion of Code, Software Distribution, Unattended Deployment
Integrate: Best Practices, Tracking Systems, Protocols (SNMP, etc..), OSLC


Language:
- English
Important dates
Proposal submission deadline: Juni 27 Extended to July 12, 2012 (send proposals to: Eclipse Day Delft Organizers )
Notification of presenters: August 31, 2012

Event registration opens third week of July, 2012

Eclipse Day Delft: September 27, 2012 (08.30 am - 6.00 pm)
Organization
Attendee Registration
The Eclipse Day Delft is a non-profit event. Ticket prices will be calculated to cover the costs of the day, and will include catering. In addition, we offer a limited amount of student tickets allowing free participation. The registration site will open on July 2, 2012.
Supporting Organizations
Sponsors
Bronze Sponsor                                          
http://www.bredex.de                     http://www.bonitasoft.com/

Gold Sponsor





http://www.microsoft.com
Sponsoring Packages
Support a great event while making qualified contacts with Dutch and international participants!
We have various sponsor packages available for your company to sponsor the Eclipse Day:
| | | | | |
| --- | --- | --- | --- | --- |
| Sponsor Package | Bronze | Silver | Gold | |
| | | | | |
| Logo and company link on registration page | X | X | X | |
| Exposition table for 2 people with room for roll-up banners   | | X | X | |
| 30 minute speaking slot in Senaatszaal  | | | X | |
| | | | | |
| | | | | |
| Price (ex. VAT) | € 400,- | €650,- | € 1000,- | |







Limitations to sponsor packages:
Bronze: Unlimited
Silver: Limited to 6. Show your demo's during breaks and borrel.
Gold: Limited to 1. Will be mentioned before lunch by short presentation.

If you want more information about sponsorship of Eclipse Day Delft 2012, please send an email to eclipsedaydelft@gmail.com.