EclipseTestingDay2010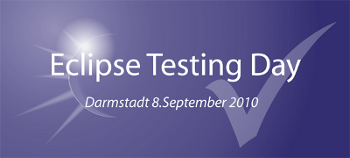 About
Eclipse Testing Day is a day-long event for technical developers, testers, architects, and managers to learn more about testing with Eclipse and OSGi technology.
The event will focus on three themes:
Testing Eclipse as a platform for application development
Testing OSGi-based applications
Testing Tools based on Eclipse
Attendees will have the chance to hear speakers from leading companies in the testing space and experts from the Eclipse and OSGi community.
Date & Location
September 8, 2010
8:30am - 6:00pm

Commundo Tagungshotel Darmstadt
Hilpertstrasse 27
64295 Darmstadt
Germany

Registration
Registration will be possible from the 23th of June.
Call for Papers
Submissions for talks are welcome. Talks can be submitted from the 3rd of May.

Sponsors
Be a Sponsor
If you'd like to learn more about sponsoring Eclipse Testing Day 2010 you'll find more information about sponsorship in our Eclipse Testing Day 2010 Call for Sponsors.
Contact
For more information email Eclipse Testing Team