EclipseLink/Development/JPA 2.0/weblogic
Running JPA 2.0 API on WebLogic 10.3
Analysis
EclipseLink 1.2 and 2.0+ fully implement the JPA 2.0 specification via enhancement # 248291 and are the RI for the GlassFish V3 JEE6 server. In order to use this functionality the 2.0 version of the JPA specification jar - javax.persistence.jar must be added higher in the WebLogic server classpath see enhancement # 296271.
Design
Design Issue 1: JSR-317 JPA 2.0 EJB 3.1 Support
DI 1: Problem
The modules currently shipped with WebLogic 10.3.2.0 (Patch Set 1) in are the following JPA 1.0 compatible versions - these must be overriden in order to run JPA 2.0 API.

modules/org.eclipse.persistence_1.0.0.0_1-2-0.jar
modules/javax.persistence_1.0.0.0_1-0-2.jar
DI 1: Alternative 1: Manual overwrite of eclipselink and javax.persistence libraries in modules
Current solution - this should be deprecated.
DI 1: Alternative 2: Reference higher in the server classpath via commEnv.cmd
Workable solution but it has issues

The server now runs a single version of the two libraries for all applications - this may not be compatible with older applications or other JPA providers running on the server.
DI 1: Solution
In <WEBLOGIC_HOME>\wlserver_10.3\common\bin\commEnv.cmd

change

set WEBLOGIC_CLASSPATH=%JAVA_HOME%\lib\tools.jar...

To

set WEBLOGIC_CLASSPATH=F:/view_w35d/jpa/plugins/javax.persistence_2.0.0.v200911041116.jar;%JAVA_HOME%\lib\tools.jar...
where F:/view_w35d == %SVN_TRUNK

Note: do not use the javax.persistence_2.0_preview.jar - the dated javax.persistence_2.0.0.v200911041116.jar one is the final PFD version for the JPA 2.0 specification.
20091202 - scope is not large enough - deprecated.
20091202 - in progress
We need to respond to the post about the FilterClassLoader with the procedure on creating a shared library for JPA 2.0 and EclipseLink 2.0 that is above the modules directory on WebLogic classpath.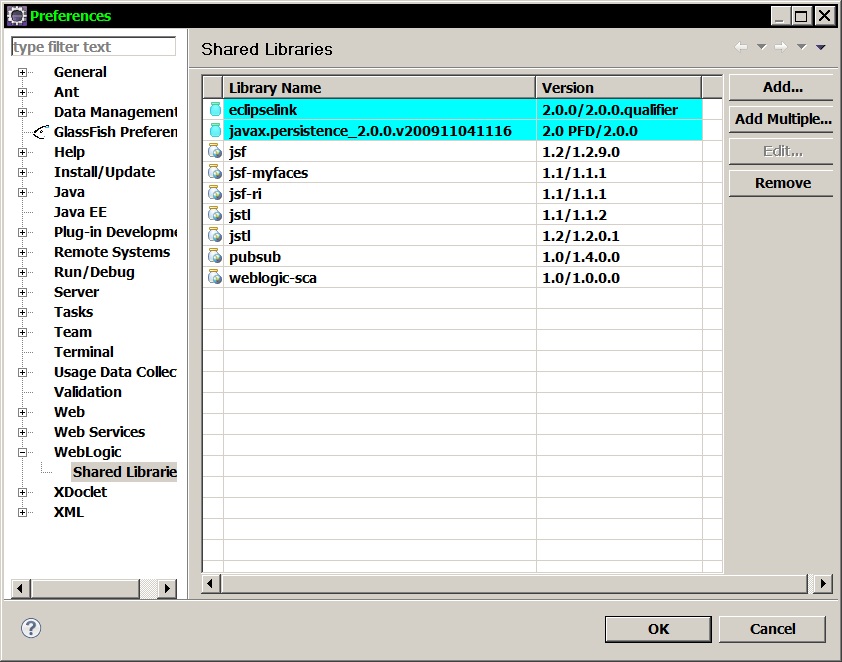 DI 1: Alternative 5: Domain Extension Template
20091202 - This one suggested by Doug - similar to what is done for other vendor libraries.