EGit/New and Noteworthy/5.6
EGit
Preferences
There is a new preference and a changed default in the EGit preferences: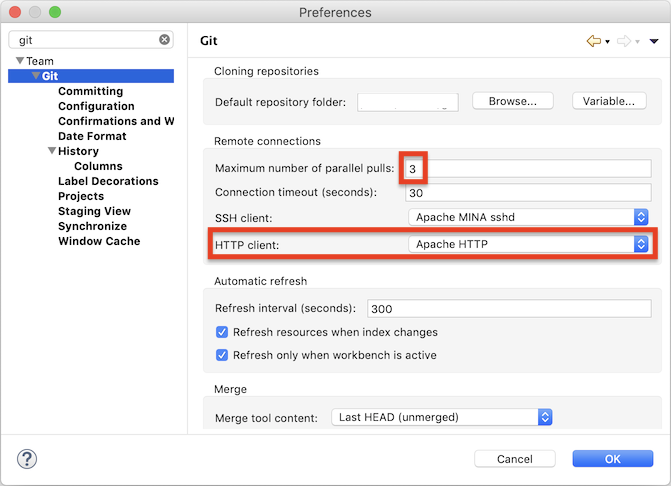 Pulling in Parallel
The default for the maximum number of parallel pulls has been changed from "1" (no parallelism) to "3". When you pull several repositories at once, EGit will newly by default use up to three threads to execute the git pull commands. This can be significantly faster than pulling one repository after another.
HTTP library
EGit 5.6.0 uses by default the Apache HTTP library for git operations over HTTP(S). The user can choose in the global EGit preferences whether to use the standard built-in HTTP client of Java or the Apache HTTP library.
This change was done mainly to facilitate tunneling HTTPS connections through plain HTTP proxies requiring username/password ("Basic") proxy authentication. OpenJDK does not allow this by default since Java 8u111; for details see JDK-8210814.
Other Changes
EGit 5.6 includes lots of less noticeable improvements in the UI, plus a number of bug fixes. The complete list of new features and bug fixes is available in the release notes.
Contributors
The following X developers worked on this release:
<TBD: list of contributors, number>
See Also
See also the new features in JGit for additional information.