EEF
Presentation
The EEF project is part of EMFT (EMF Technology).
EEF provides a generative component and runtime infrastructure for developing advanced components to ease the EMF based model editing. It is composed of three parts:
A runtime containing a set of advanced widgets and a generic and extensible MVC architecture
Standard metamodels allowing the definition of models that will parameterize the actual editing components that are to be generated
An Acceleo module generating a standard architecture extending the framework's runtime.
The generated elements can be integrated in any SWT/JFace components to ease the EMF model based editing.
Documentation
Installation
Tutorials
How to customize the generated EEF code
Guides
Sources
New & Noteworthy
Warning
If you use the Rich Text editor support in your EEF views, you may encounter errors under some versions of Linux, related to the way the native web browser (Mozilla Firefox) is integrated under Eclipse. The error looks like this: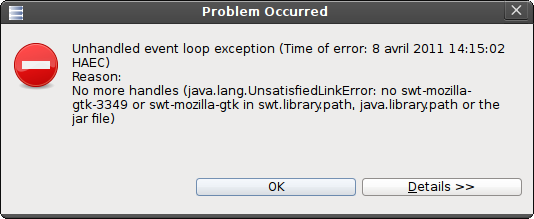 If this happens, the fix is to add the following line to the eclipse.ini file located in the root folder of your Eclipse installation:
-Dorg.eclipse.swt.browser.XULRunnerPath=/usr/lib/xulrunner-1.9.2.16
The exact path and version number (here /usr/lib/xulrunner-1.9.2.16) will depend on your system, but you should have a directory named xulrunner-X.Y.Z.V under /usr/lib.
The -Dorg.eclipse.swt.browser.XULRunnerPath=... clause must be on a line by itself, somewhere after a line with -vmargs. If your eclipse.ini does not already contain a -vmargs line, simply add it at the end of the file, and then the -Dorg.eclipse.swt.browser.XULRunnerPath=... clause below it.
Samples
Roadmap
v0.7.1
Views refactoring (control part extraction) - 90%
Views composition - 100%
SWT Standard widgets management - 75%
Extension point to add generator - 100%
Better context management - 0%
EEF widgets features alignement - 80%
v0.8.0
Alternative EMF/Edit generation - 0%
Filters modelisation - 90%
Incremental intializer - 0%
EMF Databinding integration - 5%
Help system integration - 5%
Lock system - 0%
Test generation - 10%
v1.0
New advanced widgets set (Nebula, Riena, ...) - 0%
Contact
More information