Development Resources/IP Due Diligence for Git and Gerrit

Git provides makes it easy to wrap and indefinitely persist contributions along with metadata. Specifically, contributions delivered via Git are packed into commit records that include the identity of the contributor, dates, comments, etc.
Project information pages include a block that looks something like this: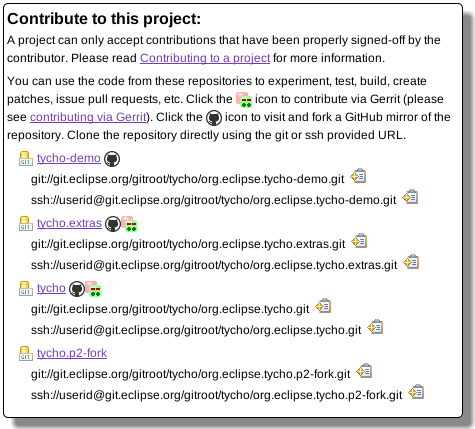 The very first paragraph contains a link to this page. Project-specific "how to contribute" pages provide a similar link.
Contribution Requirements
The contribution must be packaged as a Git commit record.
The contribution must be delivered to the Eclipse project as a pull request, or via Gerrit push.
The contribution must have the author field set to the contributor's credentials (name and email address).
The contributor must certify the contribution. Specifically, the contributor must assert the following:
I have authored 100% of the content I'm contributing;
I have the rights to donate the content to Eclipse; and
I contribute the content under the EPL
This certification must be asserted by adding a "Signed-off-by" line to the Git commit record's message using the contributor's credentials; e.g.
Make more space for the hAxis on bar charts.

The entries on the hAxis on bar charts were being truncated, making them
pretty useless. By increasing the vertical space available, they render
much better.

Signed-off-by: Wayne Beaton <wayne@eclipse.org>
Signing off with EGit
The EGit commit dialog has a handy button that makes adding the signed-off-by message easy.