Common Build Infrastructure/Getting Started/Build In Hudson
To run a job on build.eclipse.org with Hudson, you need to perform the following steps:
Request a job
Open a bug in Community > Hudson requesting your new job be created. Here are some examples.
You must provide the following details:
generally, name is build_system-project_name-version-qualifier, where qualifier could be "nightly", "release", or the Eclipse version used
Configure a job
Once your job is created (probably from a template), go to https://build.eclipse.org/hudson/view/Athena%20CBI/, log in using your committerid (link in top right corner), then select your job. Click 'Configure' from the menu on the left to edit your job.
You will want to configure the following items:
cleanup rules for old successful/failed builds
CVS/SVN source
timing (how often should the build run? how often should it check CVS or SVN for changes?)
script to run (bash, ant)
post-build steps
email notification on/off
build parameters (to easily switch BUILDTYPE from a Nightly to an Integration, or to pass in EXTRAFLAGS, for example:
ANT build Alternative Configuration
The default template for CBI builds is setup to use a unix shell script. An alternative to the shell script is to use ANT to build, and call the Athena build scripts. You setup the ant script just as if you were building from your Eclipse IDE using athena.
On the job configuration screen select ANT build, and then Advanced.
Your ANT build configuration will look similar to the following: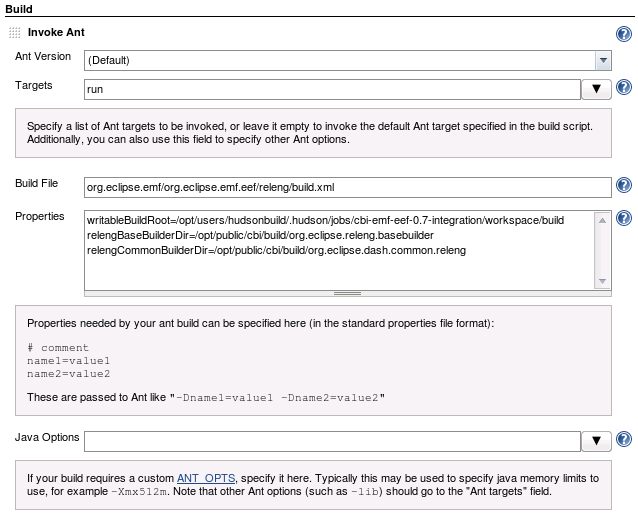 If you have additional properties that you do not want to include in your build.properties file, you can pass them in through this configuration. This allows you to have a generic build.properties and override or add as necessary specifics that may be needed for your Hudson build.
Run a job
To run a job, wait until the next scheduled time according to your configuration, or click 'Build Now' from the menu on the left of your job's page.
See Also