COSMOS logos
Winning Logo Design
The majority of the votes were for logo I, but there were a few suggestions to improve this logo. Here is the new logo design with your suggestions. If you have any other comments, please post them on bug 197672
I created different logo sizes and converted the logo to grayscale. If you need to use the logo, right-click on the logo, click Save Picture As... and click Save.
Thank you for your input. (Bug 197672)

Filename: cosmos_logo_color_1-5in.png (size: 15.8K) (1.5" x 1.5")

Filename: cosmos_logo_bw_1-5in.png (size: 5.8K) (1.5" x 1.5")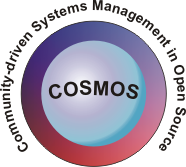 Filename: cosmos_logo_color_2-5in.png (size: 38.9K) (2.5" x 2.5")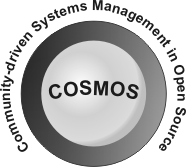 Filename: cosmos_logo_bw_2-5in.png (size: 13.1K) (2.5" x 2.5")
---

The following are examples of a new COSMOS banner that will reside on the COMOS homepage. Which banner do you like best? Please vote for your favorite banner and email the associate alphanumeric letter to Rich Vasconi (vasconi@us.ibm.com)
If you have any other banner suggestions or color combinations you would like to see, please let me know and I'll create that banner.
A.

B.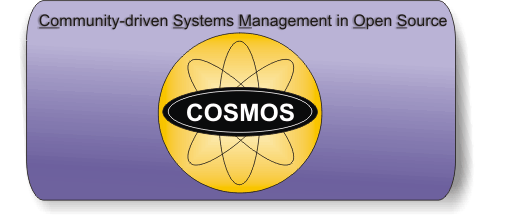 G.