ATF/Installing
Following page describes how to install Ajax Tools Framework.
1. Press Help -> Install New Software...
2. Select Mozilla part from Mozilla.org. It provides pieces to embed standard Mozilla browser inside Eclipse.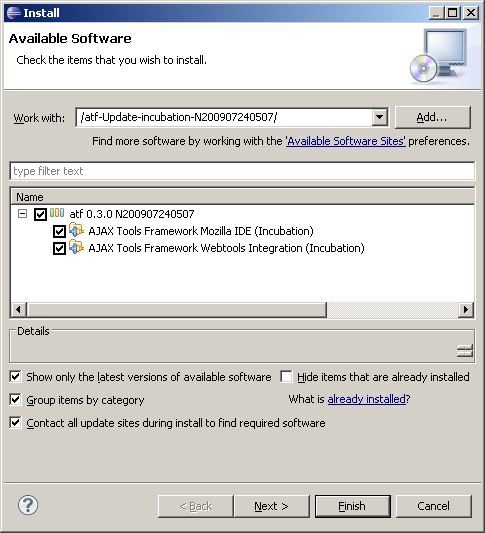 3. Select Eclipse part from Eclipse.org. It integrates the Mozilla browser with Eclipse frameworks to let you inspect, analyze and debug extra information, that is not available in typical Mozilla-based browsers.
In "Work with" field, paste following URL and press Enter: Yes.... we're working on that...
After a second, you should see available software.
Choose all items.


4. Start installation. Press "Next" and "Finish" and wait until Eclipse downlad and installs all selected items.
You will be asked to restart Eclipse.
5. Enjoy!. To start working with your new software, switch to Web Browser Tools perspective.