Eclipse DemoCamp Florence 2019
On June 11th, 2019, we organize a half day event about Eclipse technologies with talks about the Jakarta EE Working Group, Eclipse MicroProfile e Quarkus.
Agenda
14:00 - Registrazione
14:30 - G. Blondelle (Eclipse Foundation) "JakartaEE"
15:15 - L. Cesari (Rcp-Vision) - "Eclipse Microprofile"
16:00 - Coffee Break
16:15 - L. Masini "Quarkus"
17:00 - A. Mancini (K-Teq, DIMAI) "WebEE"
Slides
We will publish here the slides of the talks shortly.
Pictures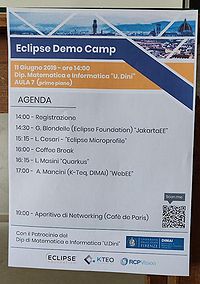 Contacts
Gaël Blondelle, VP Ecosystem Development, Eclipse Foundation: firstname dot lastname at eclipse dot org in
Alberto Mancini, Architect at K-Teq srls: firstname at k-teq.com dot com, in
DATE & LOCATION
Event Date:
Location:
DIMAI (Dipartimento di Matematica e Informatica "U.Dini"),
Viale Giovanni Battista Morgagni, 67/A, 50134 Firenze FI.
REGISTRATION
Book the date! [https://www.eventbrite.it/e/biglietti-eclipse-democamp-florence-2019-60934217886 ]
The event is free but registration is mandatory. Please inform us if you cancel your participation.
Organizers and sponsors

Regional Supporters

Media Partners